New York-based artist Timothy Goodman was recently asked to make an artistic contribution to the incredibly chic and design-savvy Ace Hotel. And what he came up with is a thoughful, interactive piece that encourages discovery. I loved reading about his process. Says Timothy:
While brainstorming in the weeks before, it was important to ask some larger questions before I started my sketch: What's its relevancy? What's its importance? Can it become engaging or participatory? Having an idea for a mural that's both relative to the space it exists in and reflective of the culture around it is not an easy task to accomplish. However, I felt it was something I had to account for.
With those questions in mind, I hand drew 99 picture frames to create a dense wall of "discovery" about NYC that could be passed to the common tourist staying in the room. Each frame contains a different fact / love / tidbit / thing of interest / or shout-out to a place I dig in the city. At roughly 120 square feet, the art was drawn imprecisely to capture the spontaneity and grit of the city. I used paint markers and opaque black paint to help this technique excel. Consequently, it became a labor of love, an act of obsessiveness that was pleasantly grueling.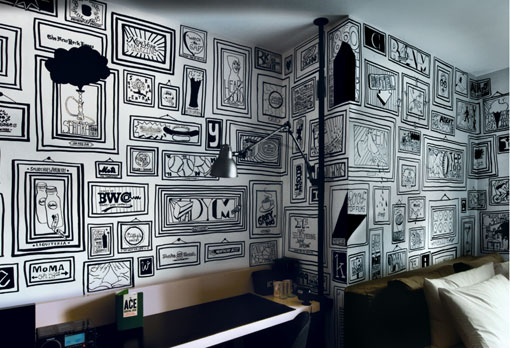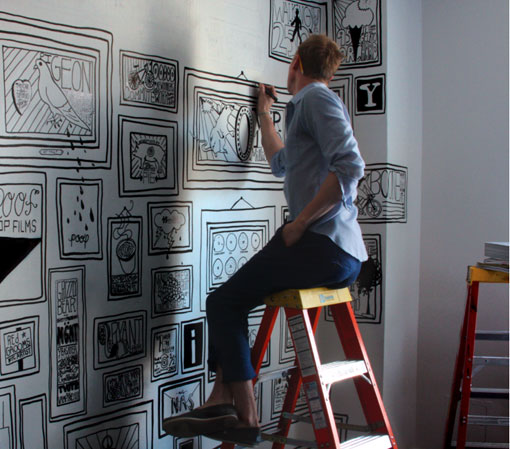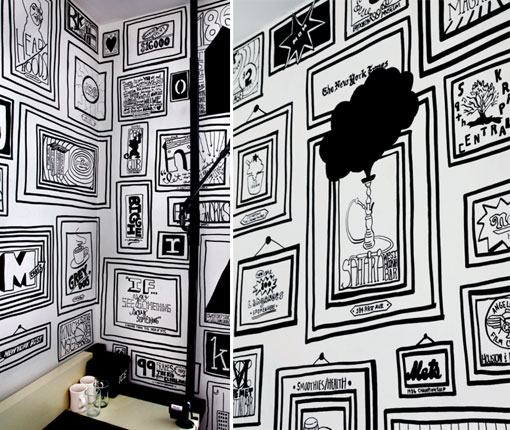 Pretty amazing, huh? Check out quite a few more images right here.