ABOUT DWL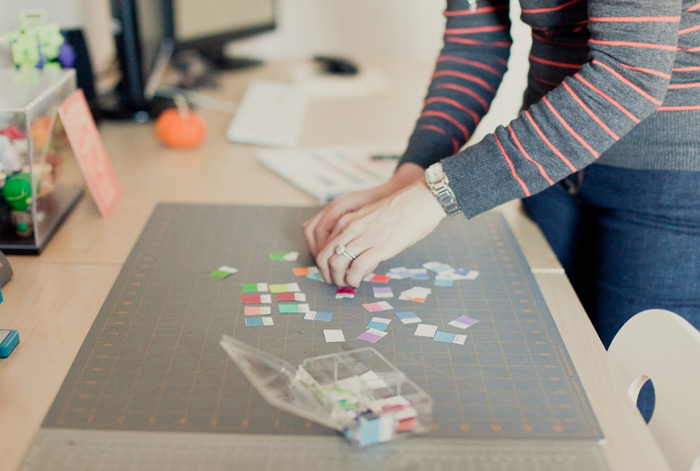 Design Work Life was established in 2008 by Courtney Dolloff Eliseo as an online space to catalog and share daily design-centric inspiration. That same year she also founded Seamless Creative, the design studio she now runs with her other half, and web developer extraordinaire, Brian.
Now almost five years later, DWL boasts almost 5,000 posts, an audience of hundreds of thousands of loyal readers from around the world, and continues to grow and expand, both in terms of content and readership.
Seamless Creative's work has been featured in various print and online publications, including HOW Magazine, Uppercase Magazine, Under Consideration's FPO, and Vigor Branding's Fire It Up. DWL has been named one of Paste Magazine's Top 10 Design Blogs of 2012 and one of Daily Tekk's 100 Most Interesting Blogs and Websites of 2014.
[insert_authors authors="2,46,45,43,44,42″]
POLICIES
Credits
This blog wouldn't exist without the inspirational work of the designers and artists we feature. So we want to make sure we always give credit where credit is due. We won't publish anything unless we can prominently link to the work's original creator, and we always give a source credit if we happened to discover the work elsewhere. That said, if you happen to see anything that is mislabeled, please shoot us an email at hello@designworklife.com and we'll make adjustments as soon as we possibly can.
Republishing
We're so happy that you enjoy DWL and love and appreciate any links that are directed our way. However, our posts are not available for syndication. Please do not copy any post in its entirety without permission.
Plagiarism
The integrity of this site's content is of utmost importance, which means we do not want to be associated with supporting plagiarism, inadvertently or otherwise. However, with the sheer amount of visual imagery found online, it is virtually impossible to historically research and confirm the authenticity of every piece of work before it is posted. If you question the authenticity of any work posted on this site, please send us an email—not an accusation in the comments—and we'll be sure to assess each situation individually.