Update: This giveaway is now closed. Thanks for your participation!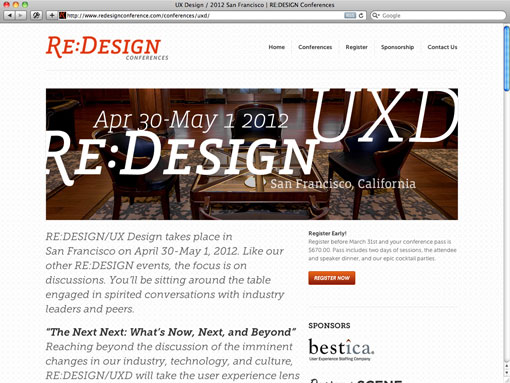 Good news readers! For the second year in a row I'm excited to offer one lucky reader a free pass to one of RE:DESIGN's amazing conferences. Here are the details:
RE:DESIGN/UXD: "The Next Next," with a focus on small scale discussions, eschews the typical panel format. The result is an atmosphere where attendees can interact, network, and learn from each other. This conference will bring together leading UX designers from traditional design firms, interactive agencies, in-house groups, ad agencies, and other parts of the design world. This year, the conference is taking place in San Francisco on April 30th and May 1st at the Bently Reserve. Our symposiarch for this event is Chris Noessel from Cooper, and our growing list of speakers is awesome.
The Fine Print:
The giveaway includes one pass to the RE:DESIGN/UXD conference, valued at $695.00. Winner is responsible for travel and lodging for the event. Winner will be selected at random. The giveaway will be open from this morning through this coming Friday at 6:00 PM EST. In order to enter, simply leave a comment here with the speaker you're most excited to hear from. Good luck!