This giveaway is now closed. Winners will be announced on Thursday, September 19th.
That's right I said, giveaways, as in two! This year, I'm excited to offer two lucky readers the change to attend one of the amazing RE:DESIGN conferences, RE:DESIGN Inspire and RE:DESIGN Creative Directors.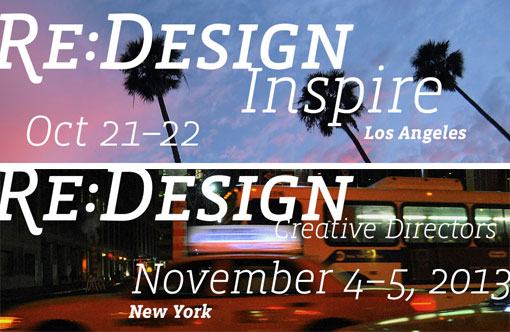 Here are the details:
This year's RE:DESIGN/CD event will be held November 4–5, 2013 at the Wythe Hotel in the vibrant neighborhood of Williamsburg in Brooklyn. This will be our third year for RE:DESIGN/Creative Directors, a yearly gathering with a focus on salon-style sessions and the chance to connect with fellow creatives. We are so excited to announce our keynote conversation with Steven Heller and Louise Fili, moderated by our Symposiarch, Wally Krantz of the Brand Union.
The theme for 2013 is Experiences. Design is about creating an experience – at RE:DESIGN/Creative Directors, we'll discuss creating experiences that resonate, whether on a computer, at an airport, in a theater, while shopping at a store, or at home. We'll explore leveraging your own experiences, working beyond your boundaries, partnering with others, and finding inspiration in outside influences to create new and unexpected experiences.
RE:DESIGN/Inspire takes on the ultimate goal of any creative type—to be consistently and innovatively inspired. RE:DESIGN/Inspire 2013 is for design professionals – graphic designers, creative directors, web designers, art directors, visual communicators and other creatives – and features salon-style sessions.
This year we'll explore the idea of cross pollination: drawing from sources beyond traditional design to enhance, strengthen and inspire our work. Our session leaders feature some of graphic design's brightest, and in the spirit of cross pollination we'll also hear from design professionals from other fields.
Join Symposiarch Lawrence Azerrad of LADdesign and a group of inspiring speakers October 21–22, 2013 at the SmogShoppe in Los Angeles.
If you can't wait or don't want to chance it, DWL readers can also get $75 off the price of either conference ticket, by using code DWL13 at checkout. Keep in mind that Creative Directors is expected to sell out especially quickly, so don't wait!