Back when I worked at Boxcar, I used to make the plates for Studio on Fire, a Minneapolis-based letterpress shop. I really liked their work, so over the years I've kept up with them and often check their site for updates. So semi-recently I was really excited to see that they launched two stationery lines, Deskline and Cardline. All of the paper goods, which include greeting cards, prints and other stationery items, are designed and letterpressed meticulously. But I was particularly drawn to the illustrative, layered feel of the pieces designed by Kelly and Kindra, a style and approach rarely seen in letterpressed stationery. I had been eyeing them online for months, but I finally got a chance to see them in person when I visited Little Otsu in San Francisco.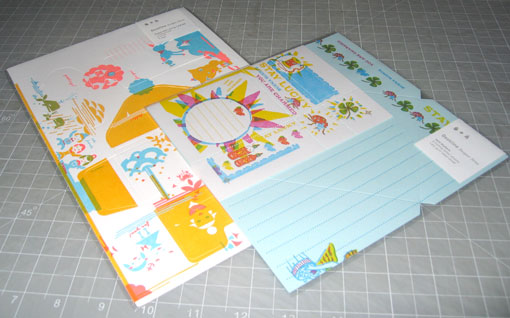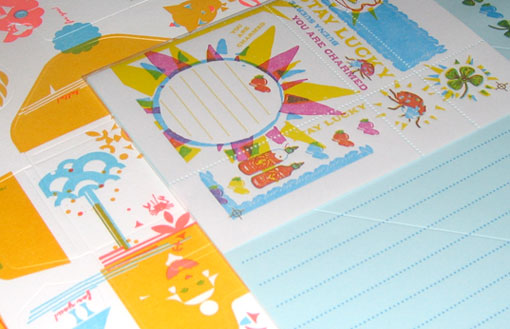 It was a tough decision, but I picked up two pieces: the Polkaville Party Punch-Out Calling Card Set and the Charmed Self Mailers (see photos above and below). Their website is under construction but in the meantime you can check Kelly and Kindra out at their respective sites.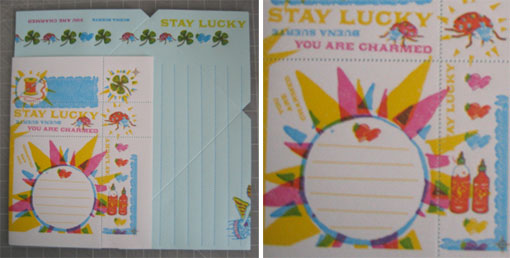 All of the Cardline and Deskline products are available at Studio on Fire's online store as well as shops across the country. Make sure to stop by and take a look through all of their design work as well—lots of letterpress eye candy there.