This giveaway is now closed. Thanks to all who participated! The winner will be announced on Monday.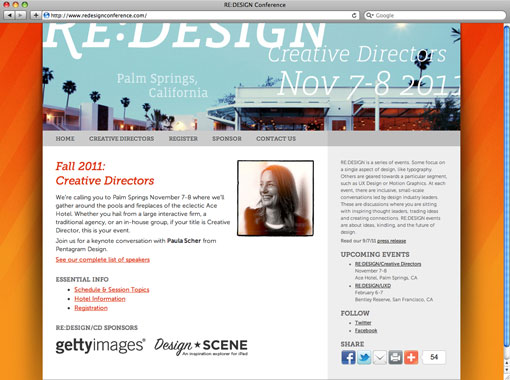 I have an amazing opportunity for all of you today! I'm extremely excited to host a giveaway for ONE FREE PASS to the upcoming RE:DESIGN/Creative Directors Conference at the Ace Hotel in Palm Springs. Exciting, right?? Here are the details:
RE:DESIGN/Creative Directors, with a focus on small scale discussions, eschews the typical panel format. The result is an atmosphere where attendees can interact, network, and learn from each other. This conference will bring together leading creative directors from traditional design firms, interactive agencies, in-house groups, ad agencies, and other branding, design, web and UX agencies. This year, the conference is taking place in Palm Springs on Nov 7th and 8th. Our keynote conversation will be led by Paula Scher along with a great group of sessions led by various Creative Directors.
Giveaway includes one pass to the RE:DESIGN/Creative Directors conference, valued at $695.00. Winner is responsible for travel and lodging for the event. Winner will be selected at random.
The giveaway will be open from this morning through this coming Friday at 6:00 PM EST. In order to enter, simply leave a comment here with the session topic you're most excited about. Good luck!