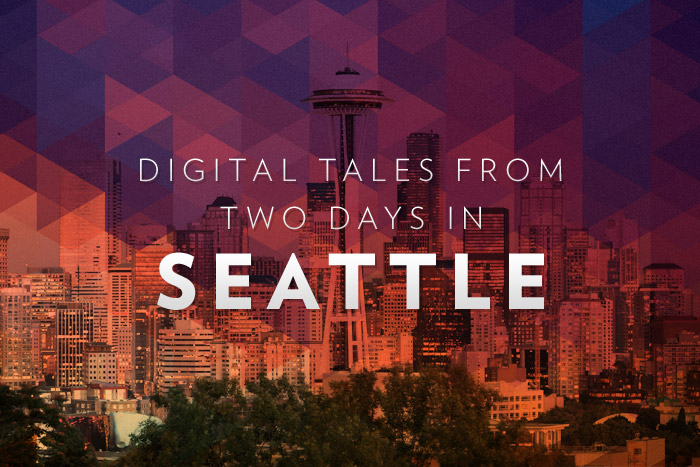 This past weekend we had the great fortune to join the gang from Creative Social for their latest global event in Seattle. For this group of talented creative folk from across the globe, and for the record a heavy emphasis on socializing, we were lucky enough to experience some incredible speakers, and better yet, some pretty radical inspiration over two days.
Three things that impacted us digitally were tales of creative education, optic nerve start-ups, and a crazy game where you play immigration officer. And this would say nothing about the inspiration that visiting the Boeing Flight Experience center, meeting the co-owner of the Seattle Sounders FC, and learning from the man who created Cranium would have, but that is for another story.
Creative Live
Chase Jarvis is just one of those guys. He makes you feel like you're standing still. Or going backwards. He turned his passion for photography into major campaigns for brands around the world. Then he turned that into the Best Camera app—you know, social photography before 'graming was made insta. He then doubled down on his chips with his latest venture, Creative Live.
This new platform is where 2 million aspiring creative professionals in 200 countries are being connected with the world's top creative through learning 24 hours a day online. As Jarvis sees it, "creativity is the new literacy." An inspiring speaker in his own right, Jarvis' new mission to create a large and free-to-watch educational system for future creative people is an incredible way to give back and build a culture of creativity.
Magic Leap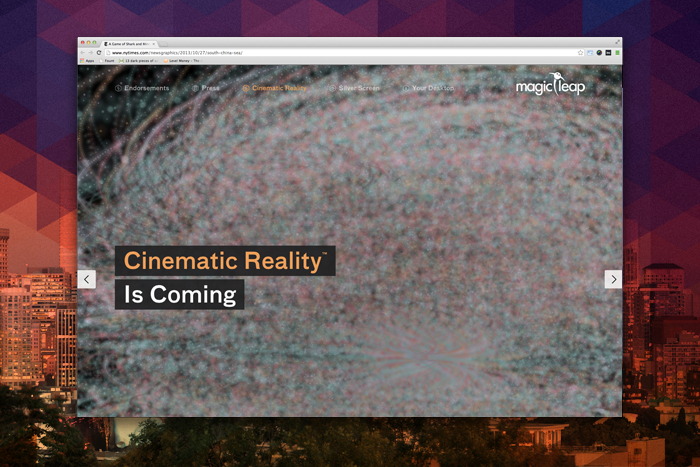 From Peter Martin of Surreal Films we learned there is technology coming soon that rivals that season 5 episode of Star Trek: The Next Generation where the whole crew, save Wesley Crusher and a character played by Ashley Judd, fight to save the Enterprise from a mind controlling computer game that attacked the pleasure centers of the brain. With that set up, meet Magic Leap—a start-up that promises human computer technology they call Cinematic Reality—which somehow is working on sending digital images and experiences directly to your optic nerve.
Magic Leap is bending its propriety technology to meet the very human needs of our future users and co-creators," said Rony Abovitz, President, CEO & Founder of Magic Leap Inc. "Our technology exists to unlock the creative spark found in all of us.
Part science fiction, part creepy nostalgia, this moves us well beyond the second screen, actually pushing us beyond the screen and into our brains. And the mysterious start up just closed $50 million in funding, so science fiction is about to get a lot closer to our brains. And to think this was the crazier talking point over Michael Jackson, David Bowie, Elvis, and Frank Sinatra holograms. Our future is digital resurrection.
Papers Please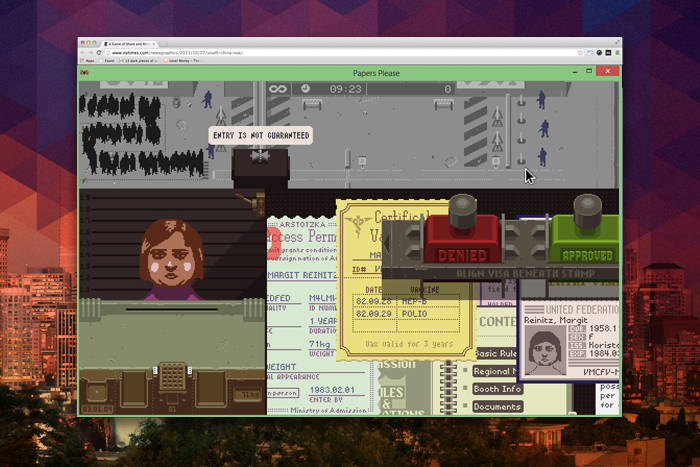 We also met game-maker Ryan Payton of Camouflaj who shared his exciting iOS title Republique and also his personal story in the gaming world. His real tale of ups and downs (a theme in almost every speaker's tale) would make for a great HBO show on its own, along the way dispensing nuggets of wisdom and fighting against the idea that "your game needs to be playable in a line at Starbucks." Just as interesting was his public sharing and obsession with a little game called Papers Please.
Billed as "A Dystopian Document Thriller", this experiment in digital is a simple immigration game in throwback graphics. "Using only the documents provided by travelers and the Ministry of Admission's primitive inspect, search, and fingerprint systems you must decide who can enter Arstotzka and who will be turned away or arrested." The whole concept is a fascinating journey into the banal, and yet the game has become somewhat of a sleeper hit —the game equivalent of the cult film.