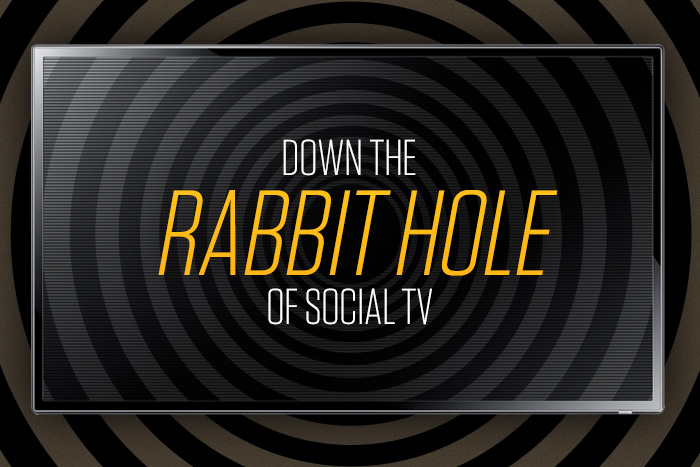 A recent study from TiVo says that 76% of television viewers prefer to just watch what is on the TV rather than be distracted by the multitude of multitasking options at their fingertips. They probably also preferred steak and lobster dinners to kale chips too if you had asked them that.
Whether they like it or not, nearly 50% of viewers are using mobile phones and tablets while watching television. Now that we have second, third, and fourth screens, the question for television executives has become what to do with them now. Many broadcasters have mastered the art of light Social TV through fan voting and participation for sports and reality shows, but are unwilling to admit that their viewers are Tweeting, chatting, and surfing while watching. It's a delicate balancing act to produce content designed to be watchable on one screen and offer additional content that works as a companion, or co-viewing situation.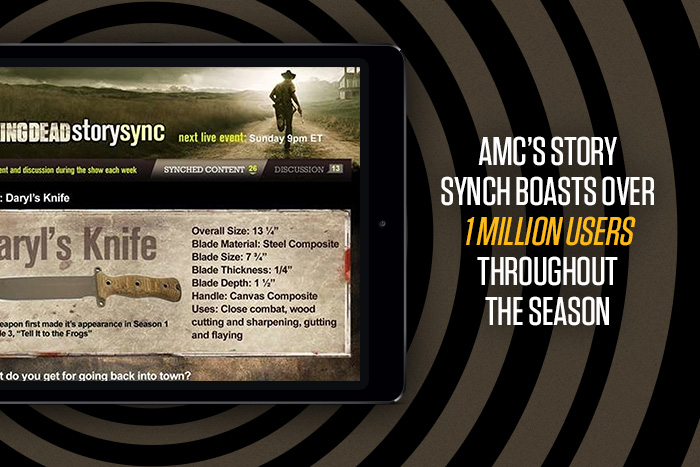 The Walking Dead is a Social TV juggernaut. When the show returned earlier this year it featured its second highest ratings ever with 15.8 million viewers and 1.24 million show related tweets from 526,174 unique users reaching 68.4 million people. Not only does the show have a multitude of games, apps, and interactive features on the AMC website, it also has Story Sync — probably television's only wildly used second screen experience with over 1 million people tuning in throughout the season.
 We're a business, so certainly we're trying to drive our business," Mac McKean, AMC's senior vice president of digital media told The Verge. "But hopefully we're trying to drive our business by creating great experiences for the viewers and the fans.
That experience is currently fairly lightweight, suggesting that studios and broadcasters still haven't gone all in on the complete multi-screen experience. It's no wonder, given that a study by the National Assn. of Television Program Executives found that 62% of people found the extra content, "somewhat more enjoyable."
For AMC, each synced episode includes about 30 pieces of content, featuring polls, videos, and photos. Even with 30 pieces of content during an hour it never overpowers the show itself.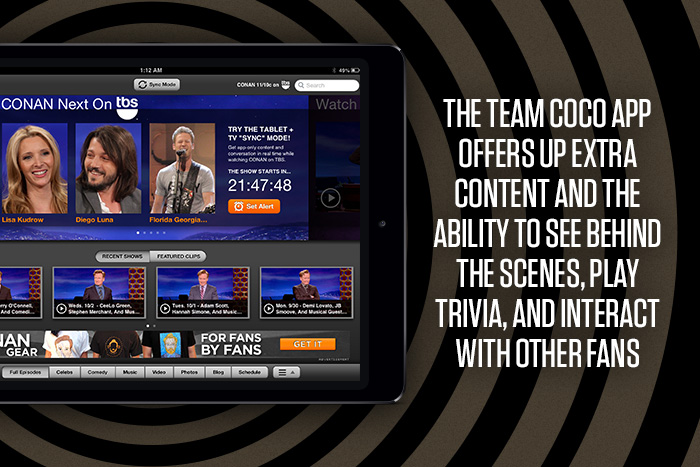 The Team Coco app for Conan O'Brien's TBS show gives fans a standalone and synchronized experience offering up extra content and the ability to see behind the scenes, play trivia, and interact with other fans. The app allows you to watch full episodes as well. Not to be outdone, new Tonight Show host Jimmy Fallon has a new second screen app too, which seems to be simply a mix of 8-bit games and social sharing on other networks.
Another favourite of Social TV is Game of Thrones — its social TV component housed within the HBO Go app. The beauty of the enhanced content here is providing viewers with tools to better understand the program from characters, costumes, sets, and landscapes. (To be fair, we find this tool invaluable given our "Beard Rule" of TV shows where we find it hard if too many main characters have beards and we can't remember who is who unless we are in full on binge watching mode. Remember Deadwood? Way too many beards to keep track of, right?) Rival Showtime's Homeland SHO Sync app is another one of the slickest example on the market, but focuses, again, on polling more than anything else.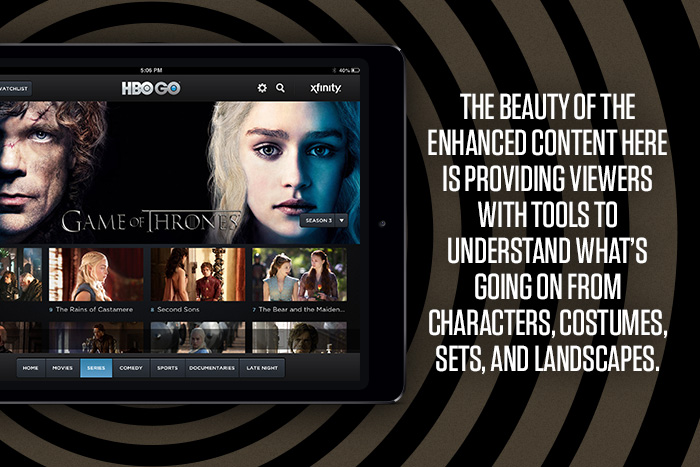 Television seems to be at the forefront of this movement, but a Dutch film called App is being billed as the world's first second screen movie experience. It's a movie about an evil version of SIRI called IRIS. The experience uses sound watermarking technology to serve up extra clues, photos, and other content to work with the film.
The biggest playgrounds for Social TV continue to be simple extensions on using Twitter and Facebook. On Sunday there were 14.7 million Oscar related tweets during the broadcast, and nearly 3 million retweets of a certain celebrity stuffed selfie. Given this, there isn't much need for TV specific social communities like TVTag — however fun it is now that they have left the sticker business and name Get Glue behind them. Replicating social networks and calling them a show-based second screen or Social TV experience cannot be the answer.
So the game is now happening on two fronts. First, how can TV shows use existing social platforms to engage users and build audiences in real time? And second, how can producers, writers, and digital companies bake this multi-screen content right into the experience from the start to provide true value — where viewers find it to be a logical and even necessary part of the show or story? When designers can nail meaningful social TV, fans and viewers will finally get a complete multiple platform entertainment experience worth watching.