For quite awhile, one of the ways I've been wanting to improve DWL's content is to provide more information and inspiration focused on the digital space. So this morning I'm thrilled to introduce you to the creative team of Jackson Murphy and Graham MacInnes, partners at Vancouver-based agency
Pound & Grain
. Their posts will launch every Tuesday and focus on the intersection between art and technology. But first, let's get to know them a little better.
First, tell us a little bit about who you are and what you do.
Jackson: I'm a copywriter by trade, and a partner and creative director at Pound & Grain. Graham and I have been creative partners for about ten years, longer than nearly everything I've ever done. Except that time I worked in a steakhouse that long.
Graham: An Art Director by trade for the last 15 years, I'm a partner and Creative Director at Pound & Grain. I'm amazed at how to this day I still love every day on the job and am constantly inspired and challenged by our work.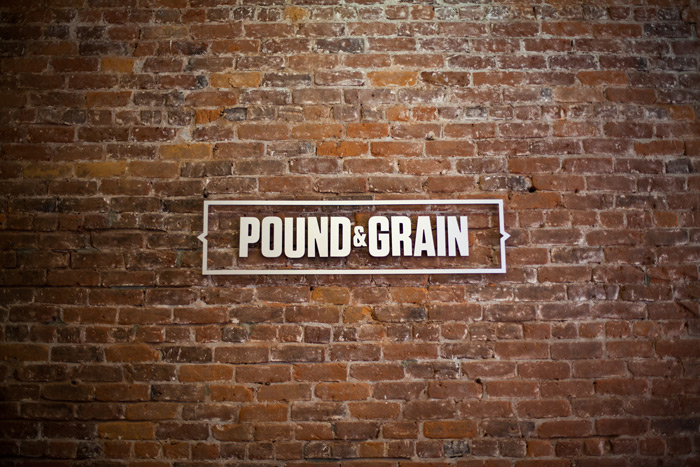 Where are you located? Do you feel like your surroundings have an impact on the work that you do?
Jackson: We're located in Vancouver, Canada. We work and play in an area called Gastown, and for Vancouver it's got that heritage vibe, our office is pretty old. Along with plenty of hipster watering holes and coffee bars, it keeps us pretty pumped to show up every day.
Graham: We are located in Vancouver, British Columbia, one of the most inspiring places on the planet. Surrounded by water and mountains its hard not to be inspired by the beauty of the landscape here. Two minutes to the beach and 30mins to the mountains, it's easy to unplug and get out in nature to help take away the day-to-day stress.
Tell us about a recent (or current) project you're excited about.
Jackson: We recently launched whil.com, a site about 60 second meditation. Its monthly magazine format has been a lot of fun to put together – truthfully it's a content nerd's wet dream.
Graham: We've had to opportunity to develop a brand for a Buy Local. Eat Natural initiative. The objective to get people to realize the value and quality of buying locally grown and produced products. We've been able to create some great relationships with fellow small businesses and use digital to get and keep consumers engaged. From a website to an app to events celebrating local its really allowed us to expand into areas that are not traditionally considered "digital". The positive feedback and engagement has really been rewarding.
Does a "typical day" exist for you? What does it look like?
Jackson: Typical exists for sure. We like it typical. Days start at 7ish (most creatives we've ever worked with think we are certifiably nuts), the first couple of hours are about getting into some work, answering emails, social media, and the business of running an agency. Then we spend most of the day working with team members, reviewing projects, client meetings, and enjoying our cereal bar.
Graham: I always start early, up around 5 to go to the gym and then hit the office by 7. Those two hours in the morning are the most valuable time to be creative without a barrage of emails and meetings to take my mind off of things. Once 9am hits its full on with a series of meetings, creative reviews and pixel pushing. I usually head home from the office around 6pm to cook dinner and spend some quality time with my wife. Usually hit the sack around 11 and get ready to do it all over again.
What does your workspace look like right this minute?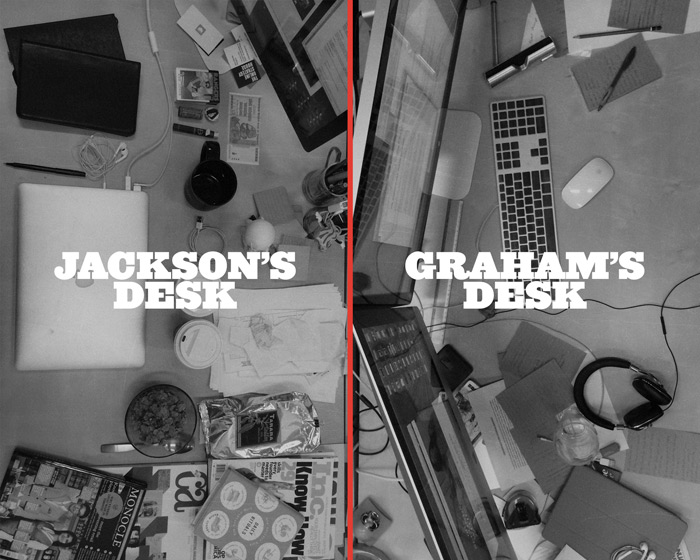 Jackson: As a level 3 "work hoarder", my desk is either the sign of an evil genius or a deranged lunatic. You be the judge. Taken November 20, 2013 10:15 AM.
Graham: I am generally a pretty tidy person but I can never manage to keep my desk clean for more than a couple of hours. I have been applauded for my unorthodox post it note filing system.
What's inspiring you right now?
Jackson: 1986 Topps baseball cards, Daneson luxury toothpicks, Wes Anderson's new Prada short film "Castello Cavalcanti", Fruit Loops.
Graham: I'm inspired by the way digital is really expanding to be beyond the screen. From traditional to untraditional advertising, the most engaging communications always include digital as way to add utility or value to the end users life.

Who are your heroes (professional or otherwise)?
Jackson: Personal: Anthony Bourdain, Professional: Bill Murray or vice versa. They are interchangeable spirit animals for work or play.
Graham: I'd say there are a few. From a design perspective Paula Scher has always inspired me. Her ability to tell a great story through her work and constantly pushing the boundaries of her creativity through side projects has shown me that the only limits to growing in my craft are my own. Another would have to be Elon Musk, a guy who's made his life's mission to solve problems that actually make an impact on humanity. He's doing stuff that no one else has the guts to take on. He's fearless.

What's the last thing you saw online that made you laugh, smile, think or take action?
Jackson: Jean Claude Van Damme's Volvo ad.
Graham: Pop culture tom-foolery: enoughtoeat.com

When you get the chance to disconnect, where would we find you?
Jackson: In a hotel. I have an obsession with thinking about and staying in hotels. When I'm not working, and not traveling, I'm thinking about hotels for my website: The Hotel Appreciation Society.
Graham: I'm an avid runner and cyclist. I try to do either one as often as possible, much to Jackson's annoyance, so if I'm not at home or at the office you can usually find me running around the seawall in Stanley Park, or on a ride.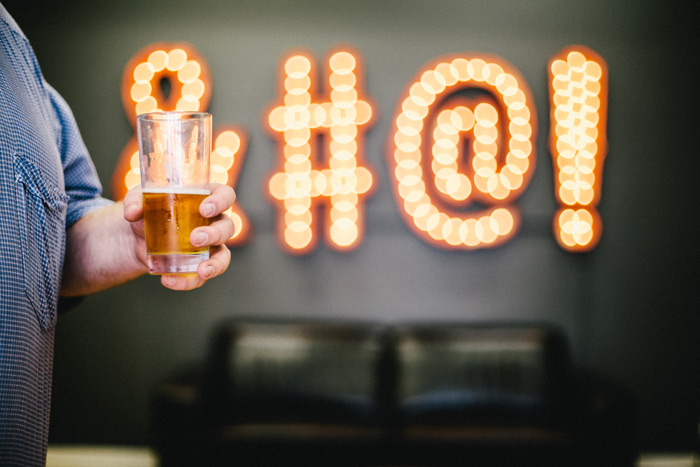 Rapid-fire round. Give us five current favorites: of-the-moment favorites:
Jackson:
Typeface: Sweden Sans, the new official typeface for Sweden.
App: Chippy – the Fish & Chip Shop Simulator
Website: NBA All Stats
Word: Disruption
Book: Writing on the Wall: Social Media — The first 2,000 Years by Tom Standage
Graham:
Typeface: Chronicle Display
App: Tweetbot
Website: Eagle Adventure Tours
Word: Possibility
Book: Life by Keith Richards