To promote the new range, Design Army also developed a set of notecards, dubbed "Delightful Species," which take full advantage of the papers' capabilities. The team was kind enough to give us some insight into their process and design choices.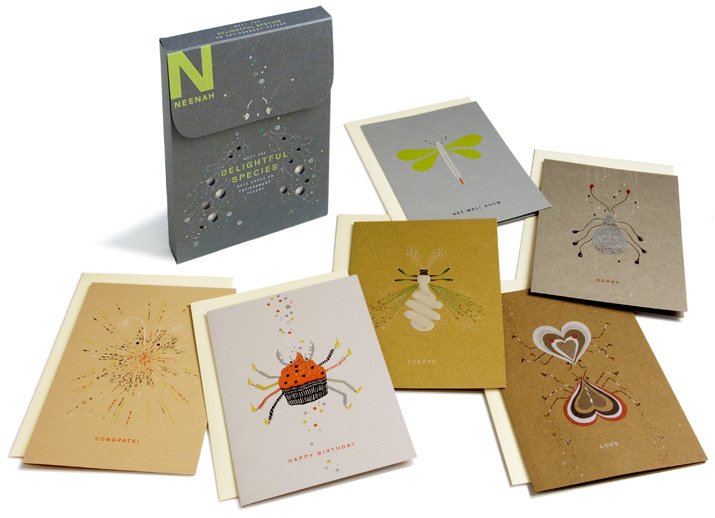 Why notecards?
Neenah came to Design Army looking for a relatively low cost promotion with high impact and high quality to introduce Neenah's new Environment Papers. Design and advertising manager Tom Wright specifically asked for something recipients would share. "A sexy, high end promotion would have been nice," says Jake Lefebure, "but designers keep the sexy pieces as Desk Candy." The idea of notecards met the need.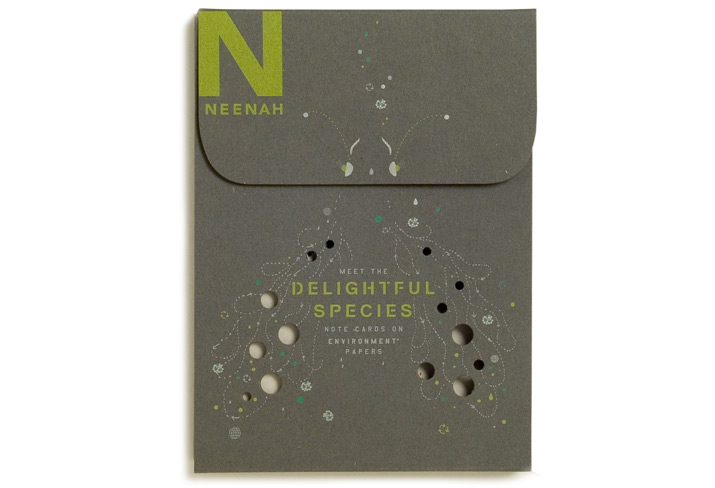 Why "bugs"?
Design Army originally presented five concepts to Neenah. Actually, Jake says the main icon for Environment Papers was first a butterfly, then a frog, then a bug. "We were looking at all kinds of creatures," he said. The idea of bugs provided the quickest tie in to the launch of Neenah's new Environment® Papers because it matched the image on the Environment Papers swatch book, also designed by Design Army. Neenah loved it, and agreed that as the new Environment line was being positioned as a new "species" of paper, the theme "Delightful Species" was an immediate hit.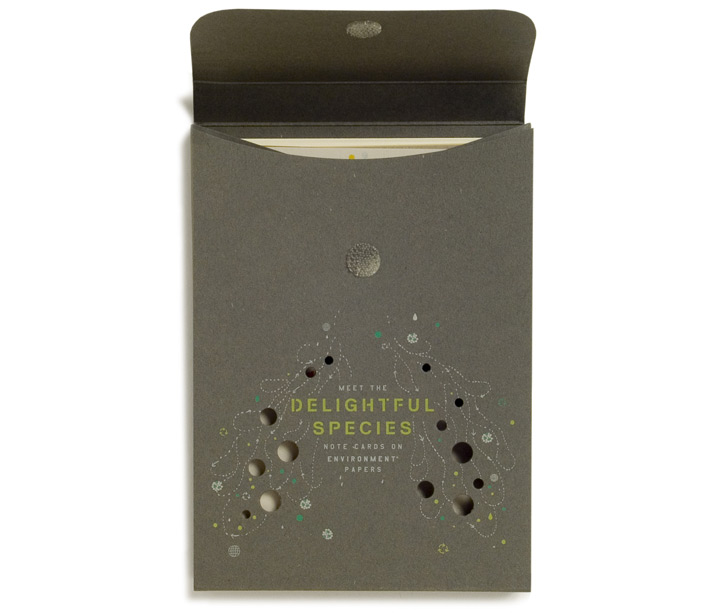 Cards and Envelopes
Each set includes six A-6 cards, each with its own fictitious bug. "These are fun bugs," said Jake. "We didn't make creepy, spooky bugs. These bugs make you smile."
Package Design
To get a formed box with minimal tabbing and glueing (to keep costs in line with Neenah's goals) but desiring to create something structurally heavy enough so it would not crush, Design Army specified a double thick cover, and chose Wrought Iron, one of the new colors from the Environment line.

On Designing with Color
A big advantage Design Army brings to the table with their work for Neenah is their love for color. "Most designers start with white paper when they design. We actually start our designs with  colored paper when we design and work backwards. We rarely dive into white. We really like to swim around in color."  Even though the Washington DC based designers had been instrumental in the development of the new color palette, one of the challenges they faced was creating designs for papers they had not yet seen or touched.
While Design Army was designing the note cards , they received some of the printability tests for the new swatch book. "The tail ins had variations showing one, two, three hits of opaque white. "It was so helpful because we knew what would work in our designs. For instance, the Love Bug is two hits of white. We knew what we were getting, and we did. The proofing was so smooth, probably the easiest job we've ever done."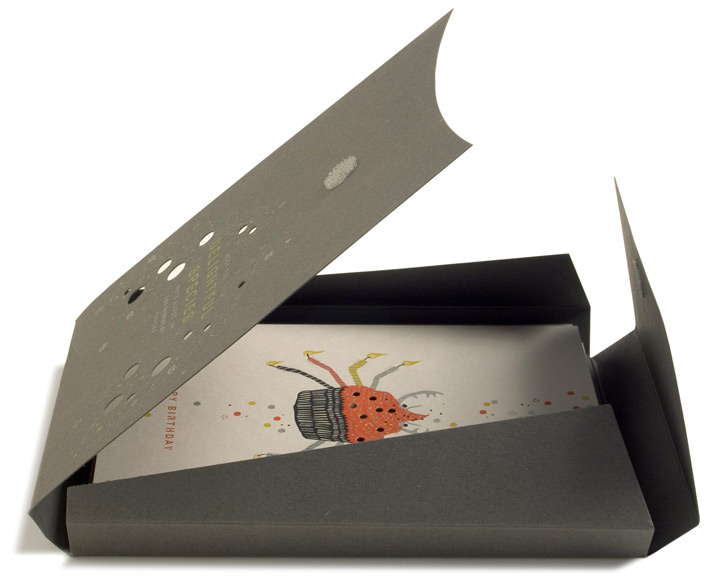 On the Raw finish
When they received test sheets from the mill after the first runs of paper were made, they were blown away by the printability. "We saw how well everything was holding up on press. Normally, you take a dark color stock and you do one or two hits of opaque white and you don't even see it. Here the spot whites are very visible. Even the 4/color images on the lighter colors don't vary much.
Illustrations
All illustrations for the Delightful Species notecards were done by Design Army.
___
It's your lucky day friends, because Neenah Paper is generously offering a free set of notecards to the first 100 people who reserve a copy on their website. Be sure to head on over before they're all snatched up!