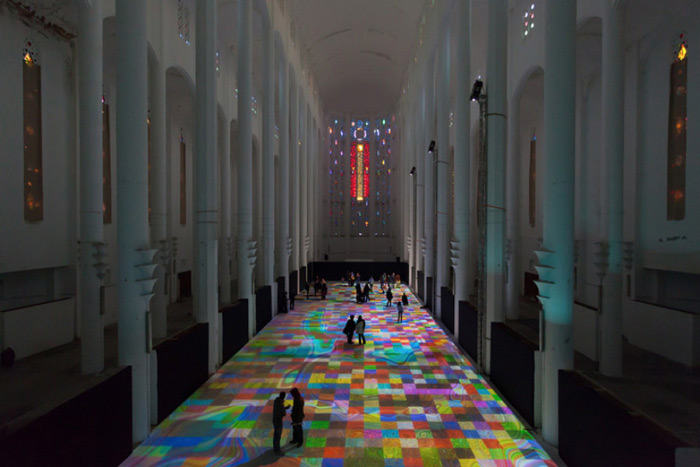 French artist Miguel Chevalier made the floors of the Sacré Coeur church in Casablanca, Morocco his canvas with his new project Magic Carpets 2014. The artist describes these digital projections as such, "this world of colors and forms in movement, invites us into the magic universe of the 'Arabian Nights' and the flying carpets."
If you're in NYC on Saturday, May 3rd you may want to stop by Louise Fili and Steven Heller's moving sale. From the looks of the short video they've made, there's some amazing treasures to be found.
Imbue is a small creative tool that attaches to your notebook and aims to give you an alternative to rulers, t squares, triangles, and compasses that you can take with you on the go. Help get it made on Kickstarter.
Tobias Frere-Jones has a new blog.
I love this phone wallpaper that Eight Hour Day made in honor of Mad Men's final season premiere.
Two books I'm looking forward to checking out: Type on Screen by Ellen Lupton and Brand New by Wally Olins, who sadly passed away earlier this week.
Good reads: The Crossroads of Should and Must, Passwords are Obsolete, The Most Underrated Skill for Creatives? Empathy.