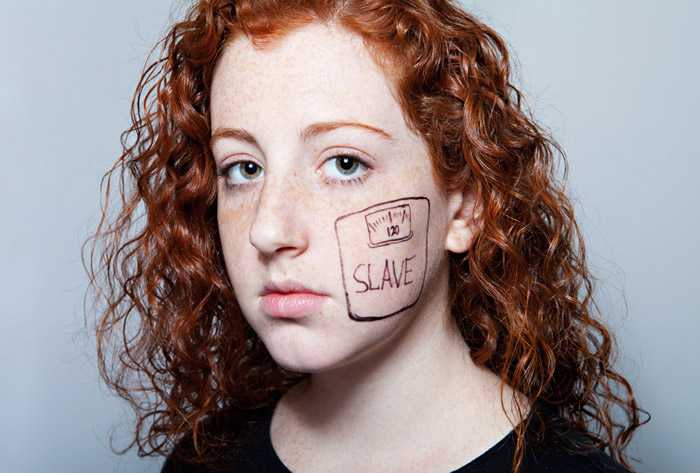 The What I Be project is a beautiful initiative by Steve Rosenfield Photography that aims to "tell your story the way you want it to be told." The close-up portraits feature individuals exposing their insecurities by writing or drawing them on their skin—signifying issues they struggle with but that do not define them as people. For more of What I Be, you can check out the images on the project website and follow along on Facebook.
In case you missed it, earlier this week Media Temple launched a major site redesign. The primary goal of the new experience is to place an emphasis on the people who are essential to the company—clients, employees, partners, etc.—and what their products can help them to achieve.
If I was planning another wedding I would definitely pick up these letterpress vow journals designed and printed by Sideshow Press for BHLDN.
Nail It is a short e-book by design business consultant Ted Leonhard that aims to "lead emerging designers to the salaries they deserve" by using "real-world stories to demystify the negotiation process." You can pick it up for your Kindle for only $5.99, but it's also available for free on iTunes through January 15th.
To celebrate 2014, designer Monina Velarde set up a new tumblr where she is compiling a list of both little, easy-to-accomplish resolutions and broader aspirations in an energetic, colorful design. Follow along at This Year I Will.
Digital Ocean published their picks for 20 developers to watch in 2014.
Based on the common saying, "You learn something new every day," designer Jag Nagra set out on a quest for knowledge by asking one person per day, "What did you learn today?" Check out the result on Vimeo.
If you find yourself frustrated with the number of pixelated thumbnails popping up in your Google image searches, you will likely find nostockphoto.com pretty useful. The tool adds search terms to your search so that the main stock photo sites perpetuating the issue are blocked, and restricts searching to large images only.
Two interactive 2013 year-in-review sites caught my eye this week: The Year in Kickstarter and Code School's 2013 Report Card.
I'm sure these are not everyone's cup of tea, but I find Fairgood's new jerk balloons entirely hilarious.
Good reads: The science of willpower: Kelly McGonigal on why it's so dang hard to stick to a resolution, Tina Roth Eisenberg on the DO blog (and don't miss the accompanying talk!).