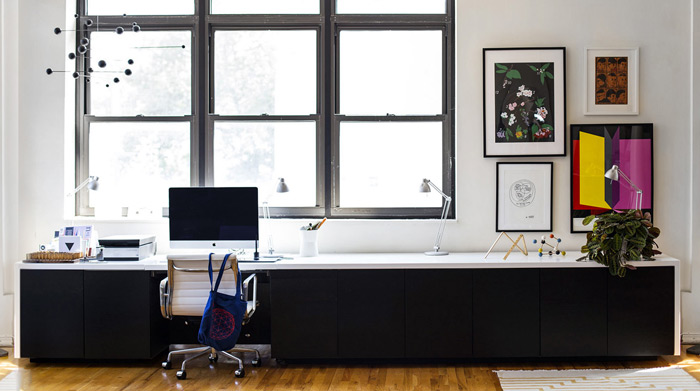 Kelli Anderson's standing desk Ikea hack (above) is absolutely incredible. Check out all of the behind the scenes construction details on her blog.
Nicholas Blechman chose The Best Book Covers of 2013. via Quipsologies
If you're looking to stock up on gift wrap for next Christmas (I always do this so that I don't have to worry about it during a shopping frenzy) you might want to consider this Wood Type Gift Wrap by Baltimore Print Studios.
I'm really loving the trend of publishing lists of the past year's accomplishments as opposed to resolutions for the year ahead. I don't know about you, but my time is spent split between so many different things that the days end up passing quickly without much time to reflect. So I can see how listing everything you've accomplished over the past 365 days in one place can be quite a powerful motivator for what lies ahead. I haven't sat down and done this myself quite yet, but here are a few examples that caught my eye: Jen Myers, Oak and Mailchimp.
When designer Olga Protasova was inspired by the title of a recent 99u article, she contacted the author, Paul Jarvis, about a potential collaboration. And the result is a colorful poster—that you can download for free—created using her signature plasticine typography. And be sure to check out the short piece that inspired the project, Amateurs Get Angry With Clients. Professionals Educate Them.
Now that Christmas and New Year's has passed, we're moving on to Valentine's Day. And in that spirit, I can't wait to see the results of Love for Sale, a group show featuring work inspired by Talking Heads and curated by Will Bryant, Kate Bingaman-Burt and Frank Chimero.
Enjoy your weekend!