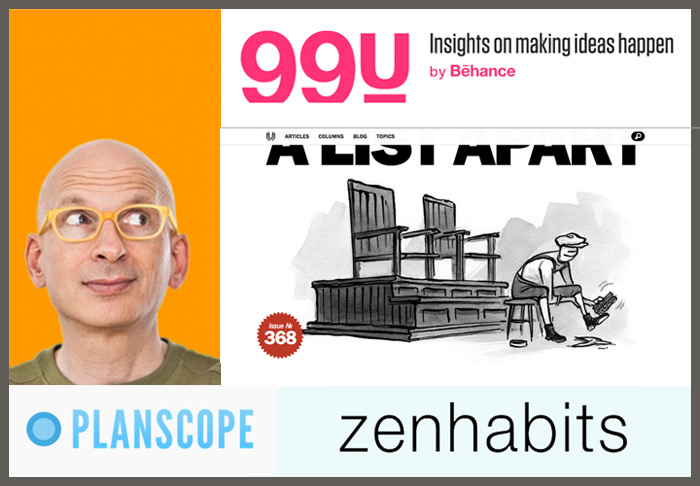 I follow quite a few blogs, and beyond those featuring visual inspiration, I love reading articles that make me think and help me to improve how I run my business. So today I thought I'd share a handful of recommended blogs that offer helpful advice for business, life in general and design thinking.
99u
99u is part of the Behance network, so all of their articles center around productivity and creativity. Their tagline, "Insights on making things happen," is a perfect descriptor for the type of content they produce. It's perfect for anyone, like me, who is always striving to do more in less time, and to do it thoughtfully. Also be sure check out their conference of the same name, which happens once a year in New York City.
Seth Godin's blog
If you don't know of Seth Godin by now, you should. According to Seth, he is a thinker and writer who focuses on "the way ideas spread, marketing, quitting, leadership and most of all, changing everything." His blog features short daily posts that cover all of these topics, giving you bite-sized lessons to consider as you tackle your day.
Zen Habits
According to the founder Leo Babauta, "Zen Habits is about finding simplicity in the daily chaos of our lives." I don't know about you, but my days often include a fair amount of chaos. So while I haven't figured out how to apply everything yet, I very much appreciate the reminders to slow down, focus and reflect.
Planscope
I've found lots of great business advice through the Planscope blog, which is the official blog of the eponymous app, a project management tool. Content spans client interaction and communication, pricing, marketing—anything related to the businesses of design, development and consulting.
A List Apart
A List Apart is primarily geared towards web-focused professionals. But beyond the web-specific content—which is excellent—they also feature tons of helpful professional and business advice that can be applied to many fields. As an aside, the site is also an incredible example of a responsive, content-focused and typographically beautiful web design.
Did I miss any you swear by? Let me know on Twitter.