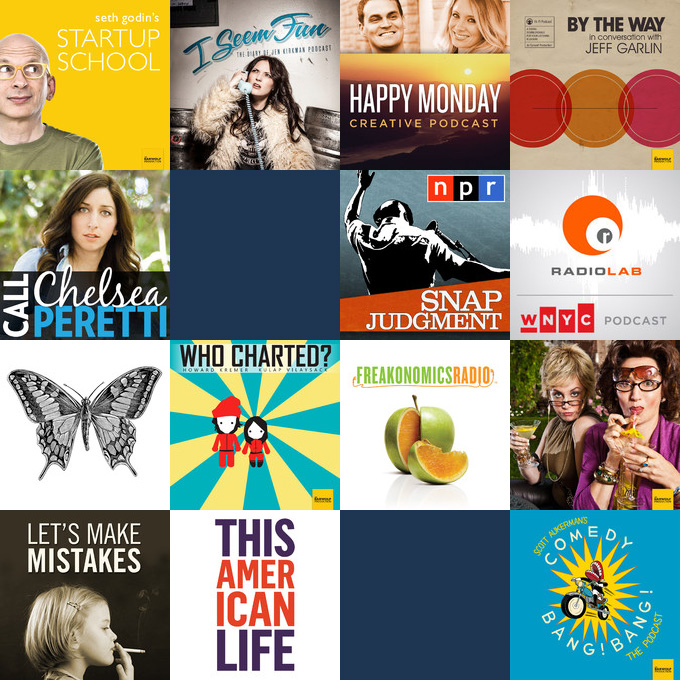 One of the things I love about working on my own is having the freedom to listen whatever I want during the day. And while I do listen to music (via
Spotify
) quite a bit, more often than not I have a podcast playing. I've discovered quite a few over time (and continue to do so), so I thought it might be helpful to put together a list of some of my favorites. My iTunes is packed with almost 50 subscriptions across different genres, so I thought I'd distill them down into a few of my top picks.
Culture/Storytelling/Learning
This American Life
I would guess that This American Life would grace the top podcast lists of many. Each week host Ira Glass features first-person stories and short works of fiction centered around a particular theme that provides honest, heartfelt insight into our culture. The stories fit perfectly together, yet have their own distinct personality—it's storytelling at its finest.
Radiolab
Growing up science was never my strong suit, but Radiolab tells fascinating stories with a scientific bent in a way that keeps me interested and engaged. I love their description: "On Radiolab, science meets culture and information sounds like music." Their episodes haven't been publishing on a very regular schedule as of late, but there's plenty of older episodes to explore. Also don't miss the beautiful short videos they did with Everynone: Words, Moments, Parabolas (etc.) and Symmetry.
Freakonomics
You may know of the Freakonomics books and movie, but did you know they also have a very-frequently-updated podcast? The theme in all three channels is the same: exploring "the hidden side of everything," which includes stories on a huge range of topics—from money to disease to relationships and everything in between. Many of the episodes are also super short (10 minutes or less) which means even if you don't have a ton of time you can still fit one in.
NPR: Snap Judgement
Snap Judgement is more of a traditional storytelling podcast. Each week features three stories focused on a central theme, brought together by host Glynn Washington.
Business/Design
The Businessology Show
The Businessology Show is one that I discovered part way through its first season, and it quickly became a favorite. Each week Jason Blumer, an accountant and coach to creative businesses, and Dan Mall, of SuperFriendly, talk business—but specifically business as it relates to those of us running creative companies. If you're a designer who is freelancing, thinking of opening up your own studio, or planning your next move, this podcast is a must-listen.
Seth Godin's Startup School
The ever wise Seth Godin hosts Startup School, a 15 episode collection of invaluable lessons for entrepreneurs looking to build and run their dream businesses.
The Gently Mad
The Gently Mad is a podcast by Adam Clark that interviews leaders in the web and design industries about "what drives us as creators and connects us as people." They're currently on hiatus but season 2 is coming soon.
Happy Monday
On Happy Monday, Sarah Parmenter and Josh Long provider listeners with a quick burst of inspiration through their personal discussions and interviews with designers and entrepreneurs doing cool things in the web and design fields.
Let's Make Mistakes
I first became a fan of Mike Monteiro after seeing his popular Creative Mornings talk, "Fuck You. Pay Me."  Let's Make Mistakes is a weekly podcast where he discussions all sorts of issues relevant to designers, business owners and others in the creative industry. Also check out his A Book Apart contribution, Design Is a Job.
Comedy
Comedy Bang Bang
While it's probably the one that first got me into comedy podcasts, Comedy Bang Bang is a tough one to describe, so I'm going to take their word for it: "Comedy Bang Bang is a high-spirited get-together between host Scott Aukerman ("Mr. Show", Producer of "Between Two Ferns") and his funny friends! You can expect conversation, music, improv, games, and most importantly plugs."
Who Charted
Who Charted is the offbeat duo of Howard Kremer and Kulap Vilaysack. Each week they count down various charts in music and movies along with a guest, who is usually also part of the comedy world.
Ronna & Beverly
Jamie Denbo and Jessica Chaffin are Ronna & Beverly, a pair of fifty-something Jewish mothers who hail from Massachusetts. Each episode features an interview with someone from the entertainment industry where they are grilled about everything from their job prospects to their love lives. And aside from this podcast being all-around hilarious, I also happen to enjoy this one because I get all of the awesome local references they sprinkle throughout each episode.
By the Way: In Conversation with Jeff Garlin
Though he has been in all sorts of things over the course of his long career, you probably know Jeff Garlin from Curb Your Enthusiasm fame. By the Way is his newish podcast where he interviews other well-known people in the entertainment industry, from Matthew Weiner to Will Ferrell to Lena Dunham, in front of a live audience. Lately he's done a few episodes in the studio that unfortunately lack the energy of the live shows, so though I'll keep listening, the live ones are definitely the place to start to start.
Call Chelsea Peretti
Call Chelsea Peretti is Chelsea Peretti's (almost) weekly call-in show where she takes calls from Twitter followers and fans and discusses whatever random topics she decides to cover that day—from "food tests" to Iyanla Vanzant and everything in between—all of which is peppered with well-placed sound effects that you can now find in her recently released app. You may also know her from Brooklyn Nine-Nine where she plays office administrator Gina Linetti.
I Seem Fun: The Diary of Jen Kirkman
Jen Kirkman, who is perhaps best known as a writer on Chelsea Lately, has recently become one of my favorite comics. I Seem Fun: The Diary of Jen Kirkman is a sometimes funny, sometimes serious, stream of consciousness that Jen records each week from bed. Also check out her book, I Can Barely Take Care of Myself: Tales From a Happy Life Without Kids.

Well that about covers the big ones for me, but I'm always on the lookout for more. Know of any other good ones I'm missing? Let me know on Twitter.