If you like well-designed t-shirts you should know about Rumplo. The description on their site reads as follows:
Rumplo is a place to find brilliant artist-designed T-shirts from around the world. Rumplo is also a T-shirt community — a place where you can submit your favorite tees and share them with the world. And Rumplo is a tool that makes it easy to keep track of your favorite t-shirt designers, t-shirt shops, and your friends favorite tees.
What's great about it is that it gathers all the best shirts from many different sites and pools them into one place, allowing you to search by color or key word, keep track of your favorites and comment on designs. They also send out a bi-weekly newsletter that highlights popular tees. The other day week I received a themed version that separated the shirts into different categories, all having to do with type! I had seen a few of the shirts they included before but some new ones definitely made it to my wish list. Here's 10 of my favorites from this week's type-centric email (links below the photo):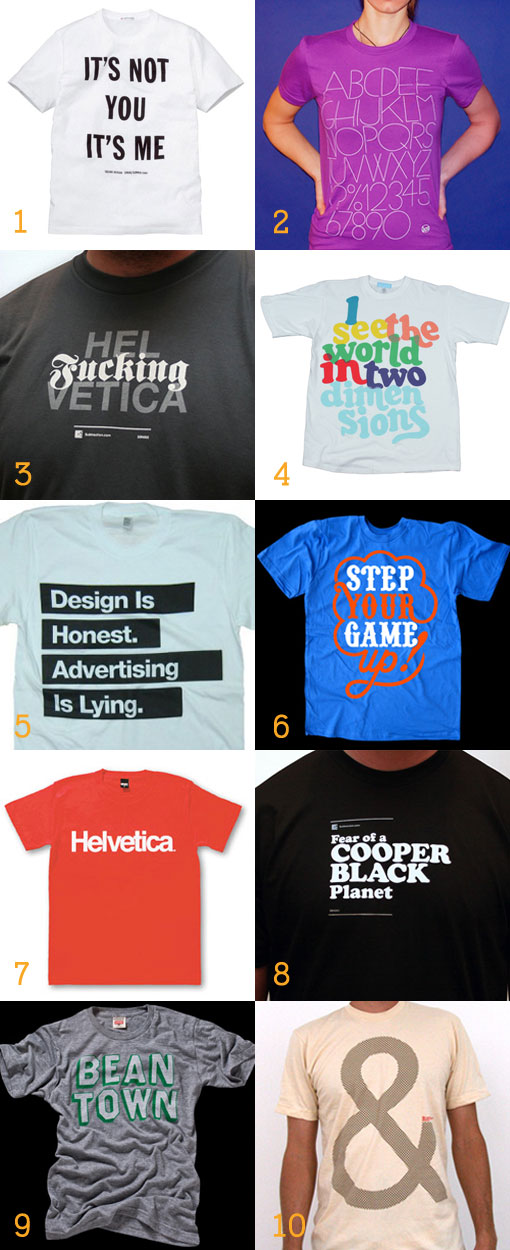 1. It's Not You It's Me
2. ABC123 Girl
3. Hel Fucking Vetica
4. I See the World
5. Grandburo Honesty
6. Step Up Your Game
7. Helvetica
8. Fear of a Cooper Black Planet
9. Bean Tee (shouldn't be a surprise I like this one…
10. Ampersand (or this one)
Find lots more like these by searching for shirts tagged with typography, check out their blog for more info and definitely sign up for the newsletter on their front page.