Take a look at this newly launched site for Martin Treu, "an urbanist, author, designer and architect," which is the result of a collaboration between Sean Costik of Projekt, Inc. and illustrator Scotty Reifsnyder.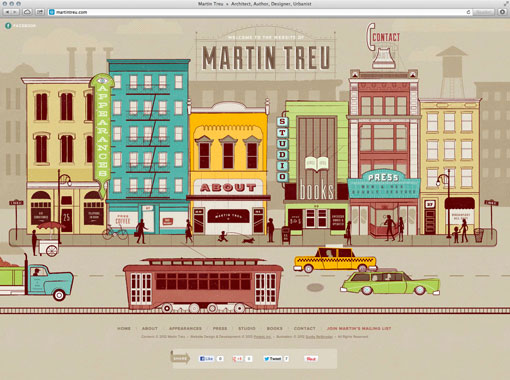 Here's a bit about their process:
We began by putting a ton of energy into the homepage artwork — which was illustrated masterfully by Scotty Reifsnyder—a simple, bustling main street where the signs acted as links to all the back pages. We even added a touch of movement to a few of them through simple, animated GIFs (flashing neon, lightbulbs, etc.), giving some additional visual interest. Marty's book was an invaluable resource for the building architecture and signage throughout the illustration. Another challenge, and something that Scotty's illustration style lent itself to beautifully, was the clients' desire for this site to be timeless — which we think was accomplished — it could be a modern day main street, or one from 60 years ago.
The entire site was also built in WordPress — giving the client the ability to upload Marty's photo/sketch studies of urban environments, press releases, upcoming appearances, book reviews and more.