I've mentioned great design for children's products before (here and here), but I have yet to mention Serena and Lily, a perfect example. Their cheerful, modern designs come in sophisticated color palettes and fun patterns. And in addition to their products for babies and children, Serena and Lily now offers bedding for adults as well as a whole slew of well-designed products, including creative accessories, fabric and paint.
They recently sent me their catalog; and what I most enjoyed, on top of the gorgeous products and styling, is the story they've created for each bedding set in their nursery line. (You can read more about their naming process on their blog right here.) Here are a couple of examples, click on the image for a larger view.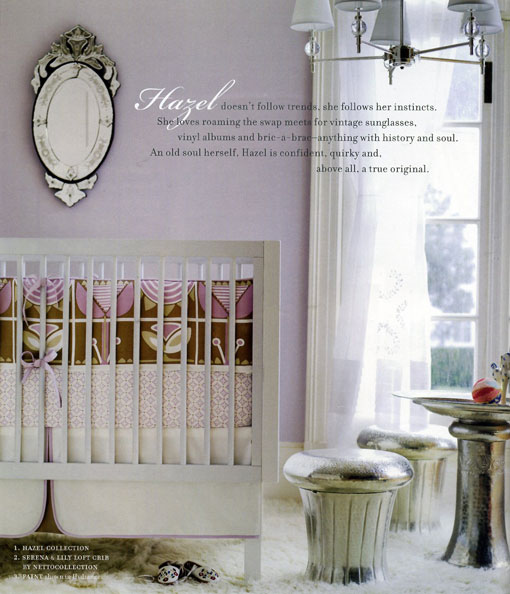 Text reads: "Hazel doesn't follow trends, she follows her instincts. She loves roaming the swap meet for vintage sunglasses, vinyl albums and bric-a-brac—anything with history and soul. An old soul herself, Hazel is confident, quirky and, above all, a true original."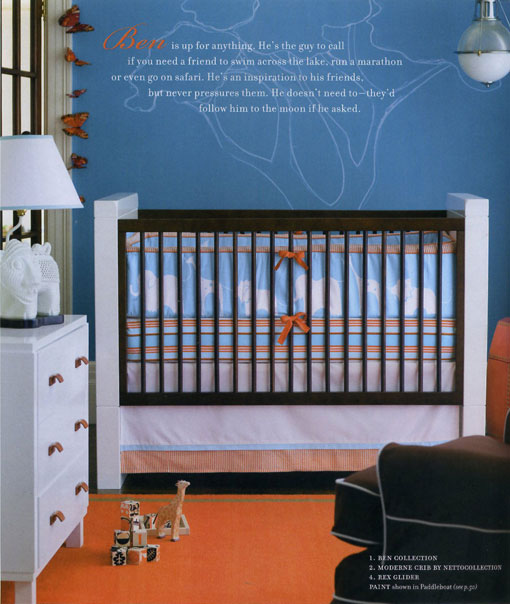 Text reads: "Ben is up for anything. He's the guy to call if you need a friend to swim across the lake, run a marathon or even go on safari. He's an inspiration to his friends, but never pressures them. He doesn't need to—they'd follow him to the moon if he asked."
Serena and Lily have more cute products for sale than I have room to gush over. But I did want to mention these letter pillows. They come in fun colors and use one of my favorites, American Typewriter Light. They're available right here for $59 each.