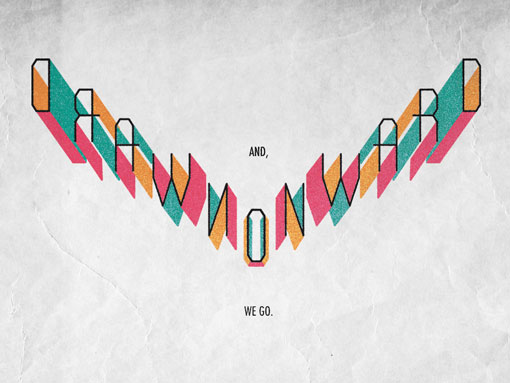 Image: Script and Seal for Friends of Type
As you all know, I took a step back from DWL this last month. Luckily I had some amazing people available to take the reins for me—Thanks so much guys!—I hope you enjoyed their posts as much as I did.
The primary purpose of August's break was to focus on some internal projects that have been neglected, most importantly the (incredibly long-overdue) redesigns of Seamless Creative and DWL. (I'm happy to report we've made a ton of great progress—I'll keep you posted on when you can expect to see some changes around here.) Additionally, taking a step back has given me some space to evaluate where DWL is headed.
This blog has been a true labor of love since its beginning. It's grown into something far bigger than I ever expected, and it's your loyalty and support that have made it what it is. I'm incredibly grateful. But the truth is, keeping it up takes an extraordinary amount of time. So, after four-going-on-five years of daily posting, I've reached a point where I need to shift the site's course a bit. Don't worry, we're not going away! What that means for you is that in order to keep DWL running I'm going to be experimenting with a few changes over the next couple of months.
Content
Starting today you'll notice that you won't see the usual daily posts (Etsy Finds, Type Love etc.) pop up each morning. I will still be posting that type of content, but there will no longer be a strict schedule as to when you see them. Don't worry, the quality of content won't change, but the structured/scheduled timing of posts will.
I know so many of you love the Monday Quick Links, and they aren't going away entirely. I'm going to move to a Twitter-based format for the links, and send them out throughout the week as opposed to saving them up for Mondays. For now, you can find them with the label #DWLQL on Twitter starting today. I know not everyone is on Twitter, so soon we will also be adding a Quick Links feed directly to the site.
Advertising
It's always been important to me to keep DWL's ad presence very minimal. But as a result, the revenue from the blog has unfortunately never matched the time and energy that's required to keep it going. I would prefer not to plaster the site with more ads, so I'm currently exploring other options. And of course, your opinions are of the utmost importance in making this decision; so I'd love to get your feedback. I've set up a very short (5 questions!) survey that focuses only on the site's monetization. The survey will stay open until Friday at 12 midnight EST. And if you enter your email address at the end, I'll send some goodies to one random winner as a thank-you.
Please click over to visit the survey HERE.
Again, thanks so much for your continued support!