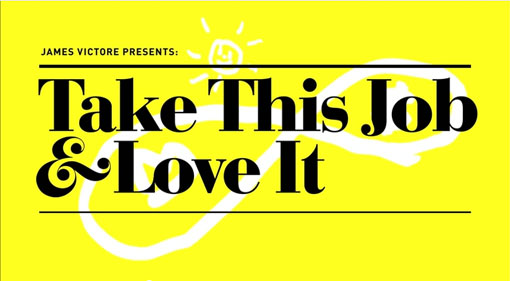 Author/Designer/Filmmaker/Artist/Firestarter James Victore has recently launched a brand new project, Take This Job and Love It: "A one day live event about work, life, and bucking the status quo" taking place this September. He was kind enough to answer a few questions for DWL readers who might be curious about what the experience will entail.
DWL: What motivated you to create "Take This Job and Love It"?
JAMES VICTORE: I had been teaching and lecturing around the world for awhile, then my book ("Victore or, Who Died and Made You Boss?") came out and changed everything. I found on my book tour I was no longer talking about or even showing my design work, but I was talking about ideas like perfection and bravery and risk. The response has been awesome, so now I have a new role part teacher, part ass-kicker, that I love, and I want to teach about how to live a more creative life to the many designers, artists, creative people not living up to their creative potential. Voila, symposium! And because I am certifiably crazy.
DWL: How will this be different from a typical design conference or talk?
JAMES VICTORE: It's spearheaded by one idea, that your work is a gift—when it is purely "you", it can move so many others. As the day unfolds we will extrapolate this idea out wider from the value of your personal talents and thoughts, to your work, life and further, creating a culture of excellence—inspiring others and releasing greatness out into the world.
DWL: Who should attend?
JAMES VICTORE: Anyone who wants more out of life and work. When traveling and teaching I find most of the questions I get asked are about ways of leading a more creative and energized life. I think we get involved in the creative business for the right reasons, then "on down the road" we find that we've forgotten those reasons. I created this symposium for designers, educators, writers, creatives who are interested in keeping the light inside them bright and being more in charge of their creativity and their lives. I want to meet exciting folks who don't want to sacrifice their gift for a monthly paycheck, but want to be received and paid for what they bring to the party.
DWL: What do you hope attendees will leave with?
JAMES VICTORE: Of course, I'd like everyone to leave inspired, but that wears off too soon. What I'd really like them to take away is a new way of seeing, new skills to eliminate bad habits, confidence in their work and in themselves, an understanding of how to deal with fear, and a commitment to incorporating more creative play into their work and lives.
If that doesn't convince you, maybe this little video will:
This sounds like it will be an amazing experience. Don't wait to register—if you sign up before July 18th, you'll receive $100 off the ticket price.
Thanks again James!