I've been a subscriber of GOOD Magazine since it started. In case you're not aware, it's a publication "for people who give a damn" whose subscription price goes entirely to the charity of your choice. (It used to be a $20 cost, but now you can contribute anywhere between $1 and $1000 when you sign up.) And aside from the benefit of their philanthropic, globally-aware position, the magazine is chcok full of great content and beautifully designed by design studio OPEN, here in New York.
I was pleased to find out yesterday that they have been making all kinds of changes over at GOOD. In addition to the subscription price adjustment, they have launched a brand new website, which is amazing—a clean, modern design and easily-understood interface. They managed to pack a ton of great information in the space without sacrificing usability. GOOD also began several initiatives to help them get the word out, one being The Good Sheet.
The Good Sheet—a "free fold-out sheet is full of digestible information—statistics, timelines, facts—on a host of hot topics, from education and voter turnout to gas prices and the environment"—began appearing in Starbucks throughout the country yesterday. I didn't see any available when I made my usual Starbucks run yesterday morning, but I'll be sure to check it out today. GOOD always creates extremely informative, creative and well-designed infographics in their publication and I'm sure this will be no different. The initiative will last for 11 weeks, with a new sheet distributed each week, and you can also get them online right here. See the first one below (click on the image for the a larger view).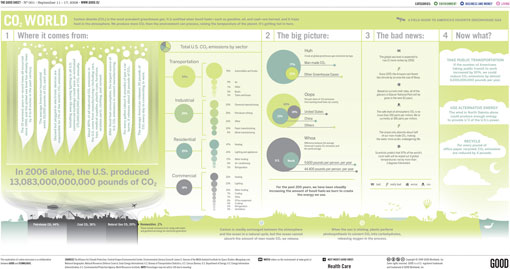 Here are a couple of other examples from their monthly Transparency section.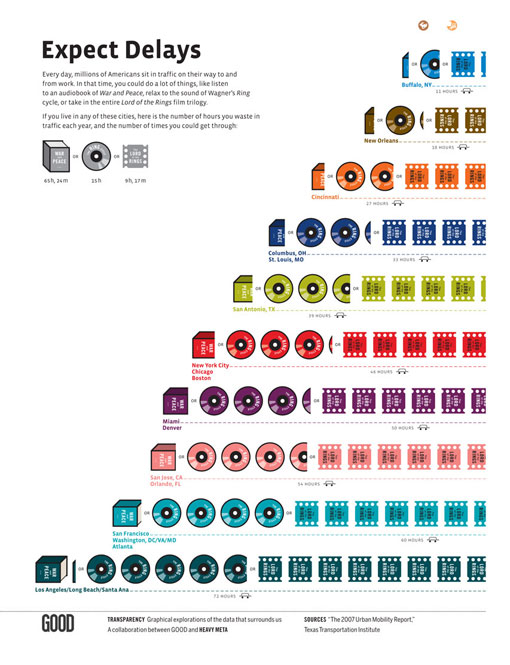 An infographic showing how much time is wasted in traffic each year, and how many times you could get through War and Peace, Wagner's Ring cycle, or the entire Lord of the Rings trilogy.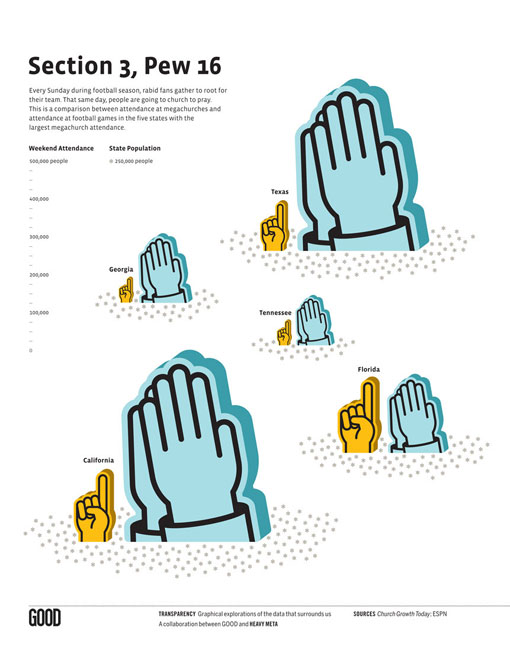 An infographic comparing attendance at megachurches vs. football games in the 5 states with the largest megachurch attendance