In case you need some help comng up with your New Year's resolutions, this site (via swissmiss) may come in handy.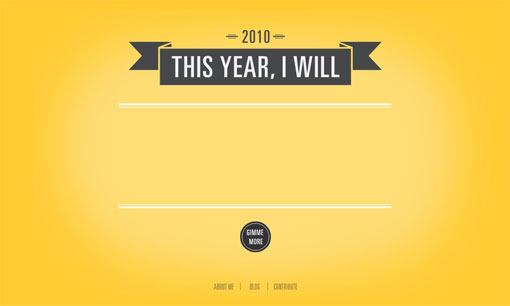 I, however, being a person with a never-ending running To Do list, had no trouble coming up with 2010 goals. My challenge was more about narrowing them down to something manageable, so here's what I came up with for some of my professional goals for the year.
Launch the new dwl. Finally, I know. I hope to make this happen in the first half of the year.
Expand. I'd like to start up a couple of new columns I've had on the backburner for a while, collaborate with some more guest authors, and continue coming up with new and creative content.
Launch the Seamless invitation portfolio. I've been doing a lot of work for weddings and events lately and I really want this side of the business to have it's own home. This is also a goal for the first half of the year.
Become a better photographer. Several months ago I bought my first DSLR. As of now I have no intention of ever pursuing photography professionally. But I fell in love with the art as soon as I picked the camera up, so it's become an addictive new hobby. Up until now I've sort of been just figuring it out as I go, so I've decided to do a 365 project—one photo per day—for the next 12 months. I'm not sure where exactly the project will go, but I'm hoping that photographing more intentionally will be a huge learning experience, and that by the end of the year I will have made some solid progress.
What are some of your goals for this year?