Print enthusiasts, you're going to love this self-promotional project by Tommy Perez. Tommy, who is a designer and frequent paper crafter, worked alongside the crazy talented folks at Mama's Sauce to create this super fun and unique die cut business card.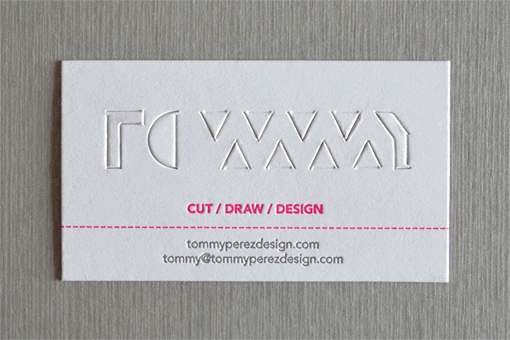 Here's what Tommy had to say about the concept:
I'm a paper geek! I love touching, caressing, folding, glueing and all things paper (TMI?) Lately I've been really getting into paper-kraftin' but my personal identity just didn't reflect that. So I started fooling around with cutting paper and making letters with folds and negative space. After many attempts and tweaks, a paperkut logo was born. I knew If I wanted to make this crazy interactive logo into a business card I had to go to someone even more loco about paper & printing. So naturally, I approached the ridiculously awesome guys at Mama's Sauce with my business card idea. Brooks immediately started geeking out over it (that totally confirmed I'd made the right decision.) They took the idea and ran with it, bringing my "Business in the front; party in the back," idea to life.
Check out this post on the Mama's Sauce blog for more details about the process.