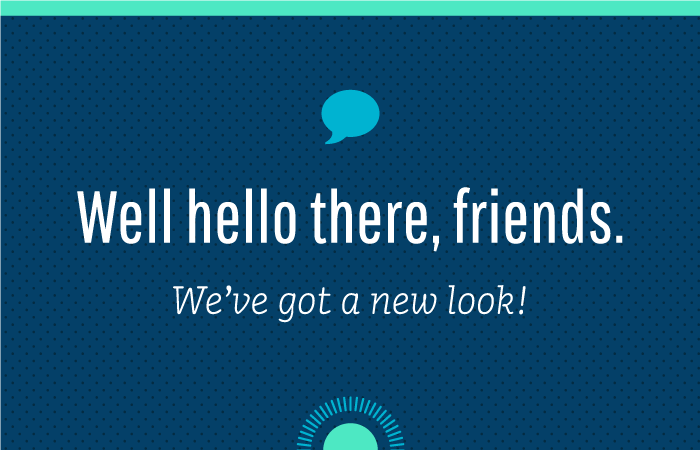 Surprise! The new DWL is here! Over the last few years we've had a few (too many for my liking!) stops and starts so I've been a bit tight-lipped about the fact that this time we were closer than ever. But I hope this is a good surprise, and you are just as excited as I am for the new design, functionality and content we have in store for you. There's lots of new things to explore, so here's an overview of what we've done:
Design and Functionality
Layout and Design
The design of the site has been updated so that both DWL and Seamless Creative are more closely integrated. (We relaunched Seamless today too—check it out!) Everything is bigger, so the content is more clear and easy to read. We've also implemented web typography, simplified the sidebar and truncated posts so that the focus is more on the visual—overall quite a big improvement, if I don't say so myself.
Larger Images
We've increased the max image size by almost 200 pixels, so those of you viewing in larger browser sizes will get a much better look at all the details of the work we post. Unfortunately for us that means we also need to do a lot of updating on older posts to ensure the images are loaded properly and have appropriate thumbnails attached. With almost 5,000 posts published thus far, this process will certainly take us a little while, so bear with us while we get everything buttoned up.
Responsive
The site is now 100% responsive. I know plenty of you keep up with DWL on your iPads and phones, so you should now have a much more pleasant viewing/reading experience.
Better Searching
We've expanded the search functionality so that you can more easily find the content you're looking for. Over in the sidebar you'll see a little widget we've developed that allows you to search by key word (coming soon), categories, tags (in case you want to find a particular design discipline) or featured post types.
No More Comments
In this version of the site we've stripped comment functionality out completely (aside from those on posts in the archives). Other than giveaway posts, we weren't getting a whole lot of comments to begin with, and spam continues to be a problem. So rather than keep this part of the site going for convention's sake, we've decided to move any relevant discussion over to social media. Future giveaways will work that way as well.
Content
New Contributors
The biggest change to the content that you will see over the coming weeks is the addition of new contributors to our daily posts. I'll be introducing four weekly columns created by three individual writers and one two-person team that cover all different areas of design. Starting later today I'll introduce you to each one individually—I know you're going to be just as excited about them as I am.
New Schedule
We're going back to a more regimented posting schedule to accommodate both content from me as well as the new contributors. This week posting will continue as usual (in addition to my contributor introductions) and then I'll post the new line-up on Friday so you can know what to expect next week.
Submissions
Submissions now have their own dedicated page. So rather than sending your work over to us via email as we've done previously, you'll simply fill out the quick form located on that page. This will help us stay more organized and ensure that we don't miss any of the work you send our way.
Expanded Nav
The site now provides you with quick links to more information about DWL, our history and our contributors through our Profile page. We also have a dedicated Contact page that will show you how to get in touch with us if need be. And lastly, we've set up an Advertising page that provides you with links to purchase ads through BSA, our ad network, as well as outlines all of the other forms of advertising we take on.
Secondary Sidebar
At the bottom of your screen you'll notice a secondary footer that provides links to our latest Type Love post, our Quick Links on Twitter, plus a module to feature any recent news.
And that about covers it! Take some time and check out all of the new improvements when you have a chance, and keep your eyes peeled for the new content we'll be introducing very soon. Over the coming weeks we're going to continue to work out the kinks and make improvements and updates, so bear with us as we make this the best DWL ever.