If you're a cat lover, you're going to go nuts over the cat fonts I've got collected for you today.
I'm not even much of a cat fan, but these cat fonts are just TOO MUCH.
So whether you're creating a logo for a local cat shelter, designing a t-shirt for a cat-centric event, or just making greeting cards featuring our furry friends, the right cat font can bring any design to life. And I've got a bunch of great options for you.
In this article, I'll be sharing my picks for the best cat fonts to give your designs just the right amount of frisky feline flair. These cat-tastic typefaces capture the playful spirit of your favorite pet and are sure to have you "feline" fine…okay that ways SO bad!
Let's dive right into this furmidable list of meow-velous fonts. (I've really got to stop this.)
My 18 Favorite Cat Font Choices
Ready to start downloading? Here are my favorite feline-inspired fonts to give your designs some playful cat-titude. (I just can't help myself. It's too easy!)
1. Cattie, A Playful Cat Font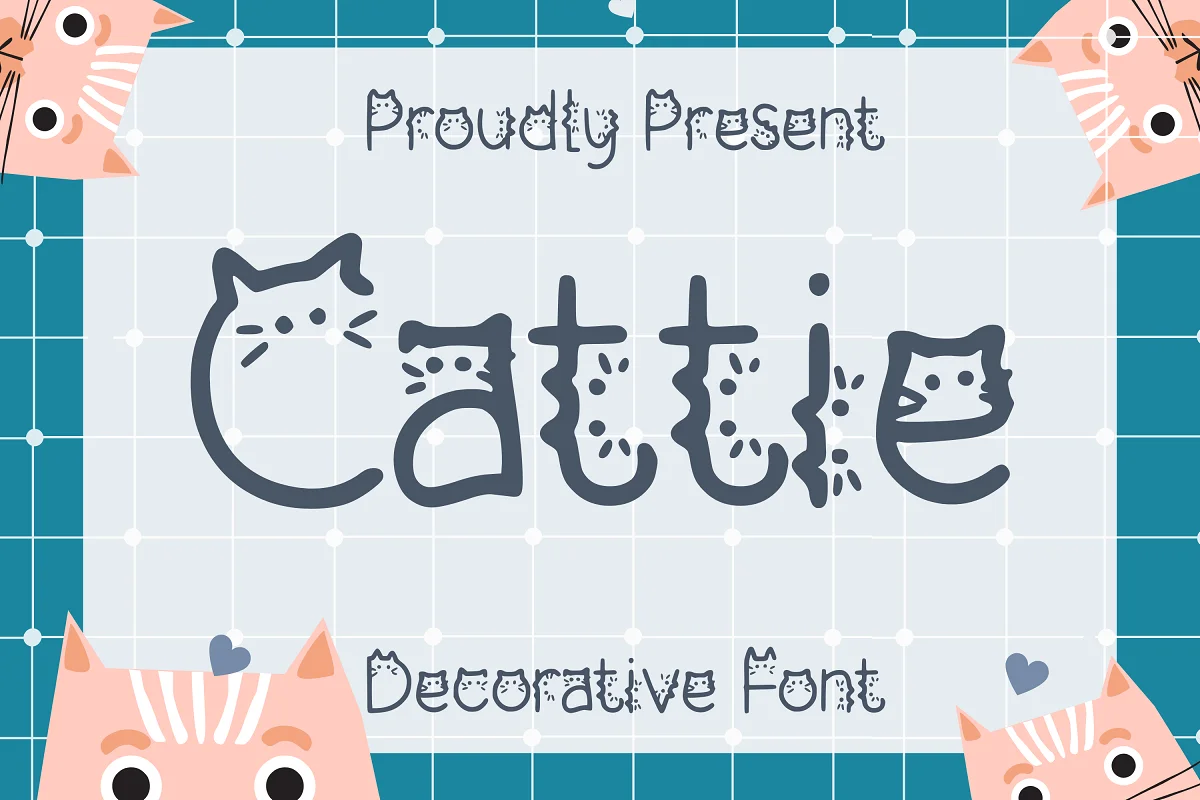 Cattie's bubbly baseline and lively letterforms are perfect for injecting a playful, youthful cat theme into designs. I like to use this energetic font for projects related to kittens or young cats.
2. Catlove, a Font for Cat Lovers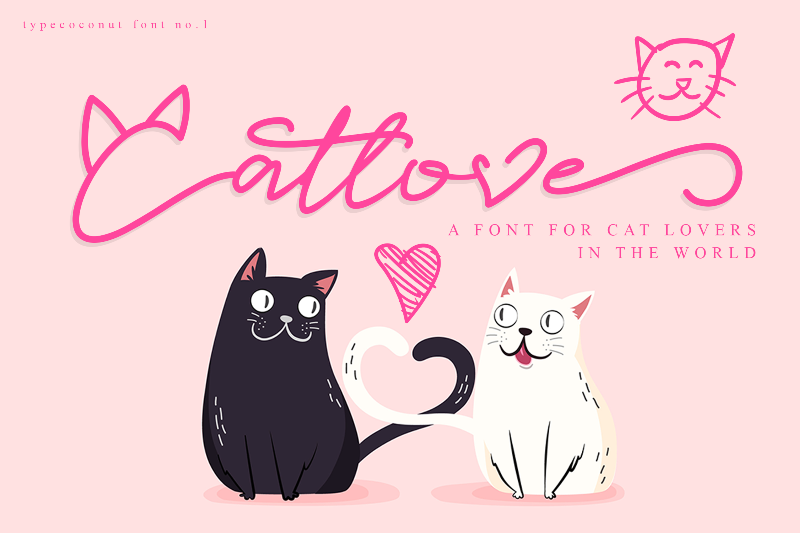 The lively bounce and movement of Catlove's baseline injects energy and fun into any design. I especially like to use this playful, youthful font for projects related to kittens, cats, and pets.
3. Bettie, Cute and Funny Cat Font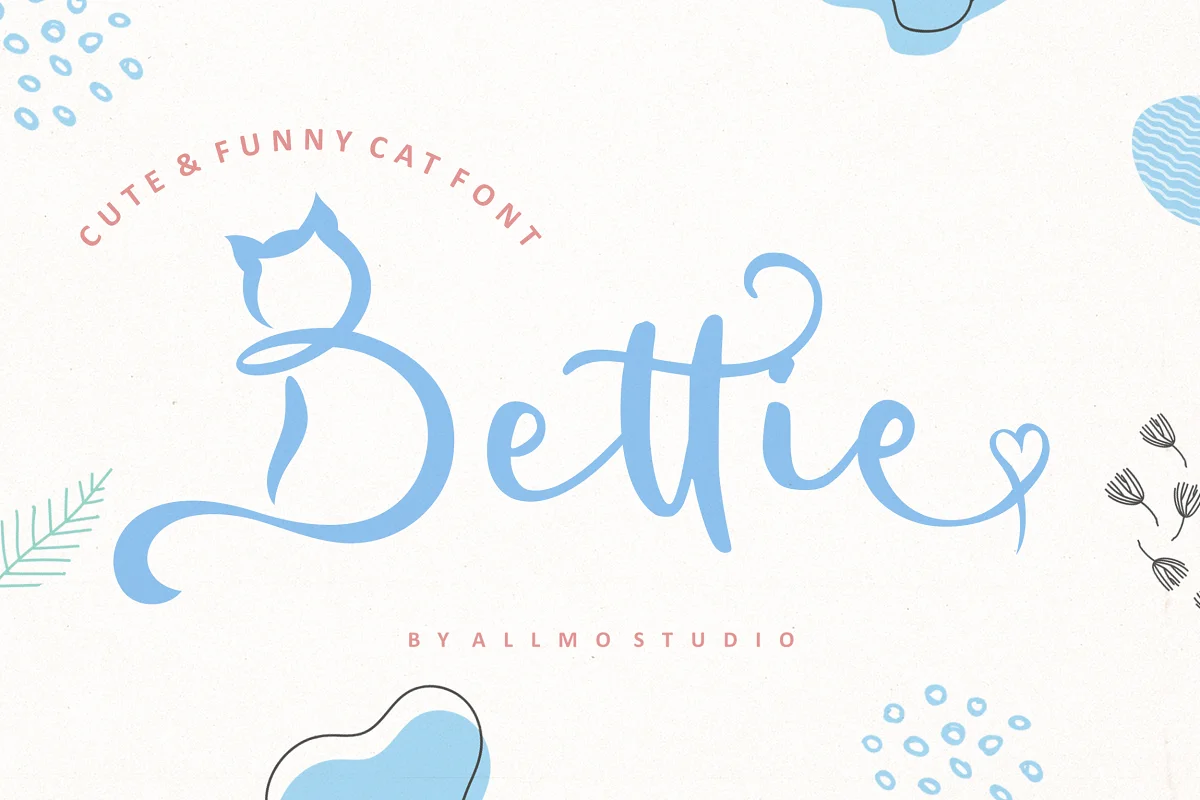 With its fun handwritten style and adorable cat characters, Bettie is a lively cat font perfect for injecting personality into your designs. I love using it for invitations, branding, packaging, and apparel when I need a playful feline touch. The alternates give you endless options for one-of-a-kind typography.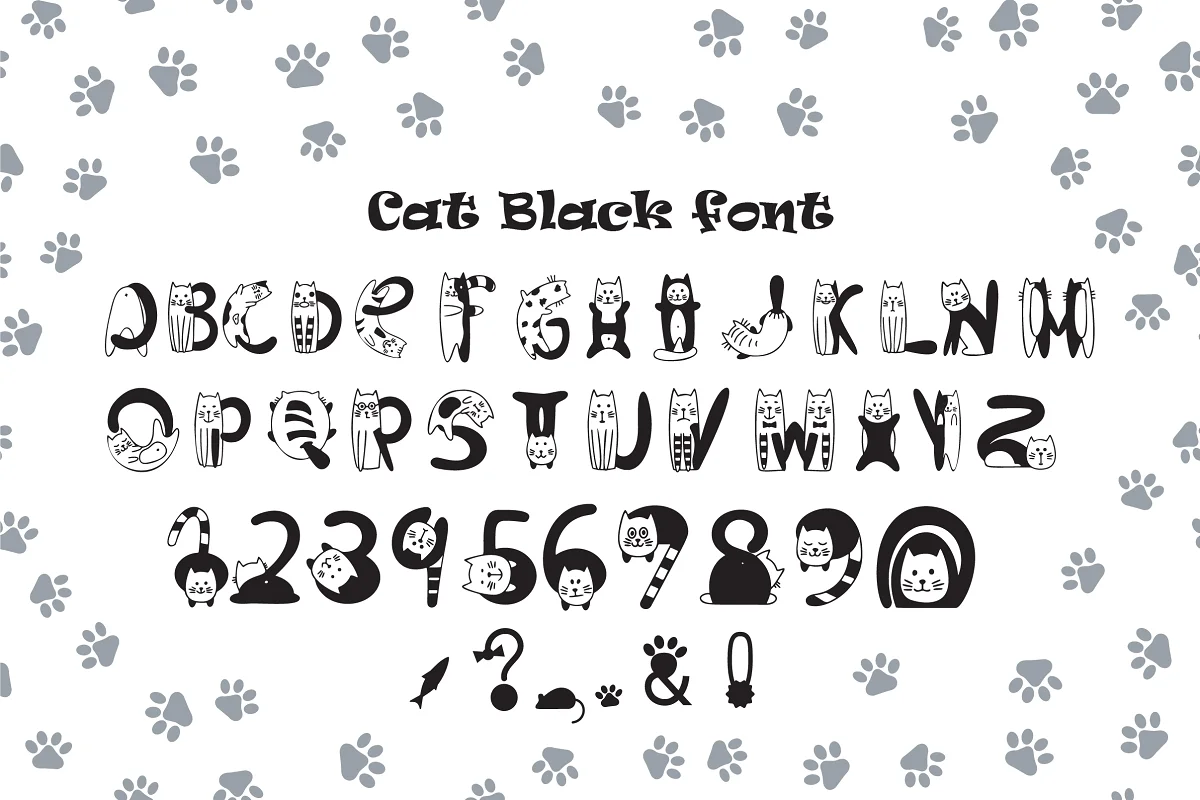 What makes Cats Black unique is its creative characters depicting kittens in different poses and attitudes. It brings lively personality to any design, especially apparel, branding, and quotes.
5. Calli Cat, Layered Display Font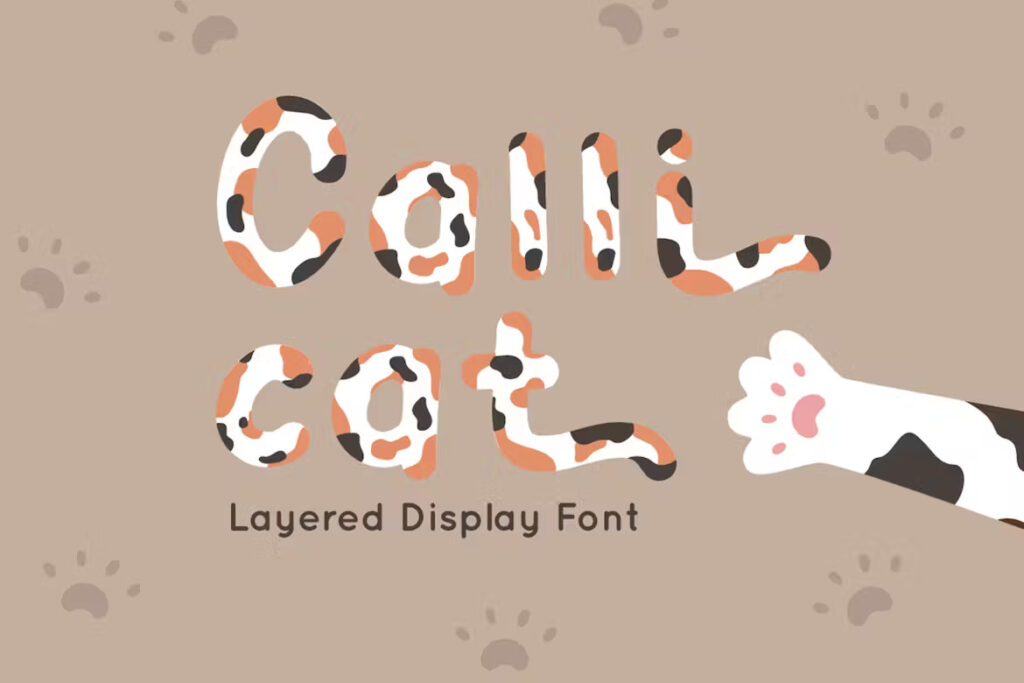 With its unique layered calico cat pattern, Calli Cat adds an adorable feline touch to designs. I love using its playful display font style for book covers, apparel, social posts, and any design needing a fun cat vibe. The layers let you easily create dimensional typography.
6. Cat Font, Sooooo CUTE!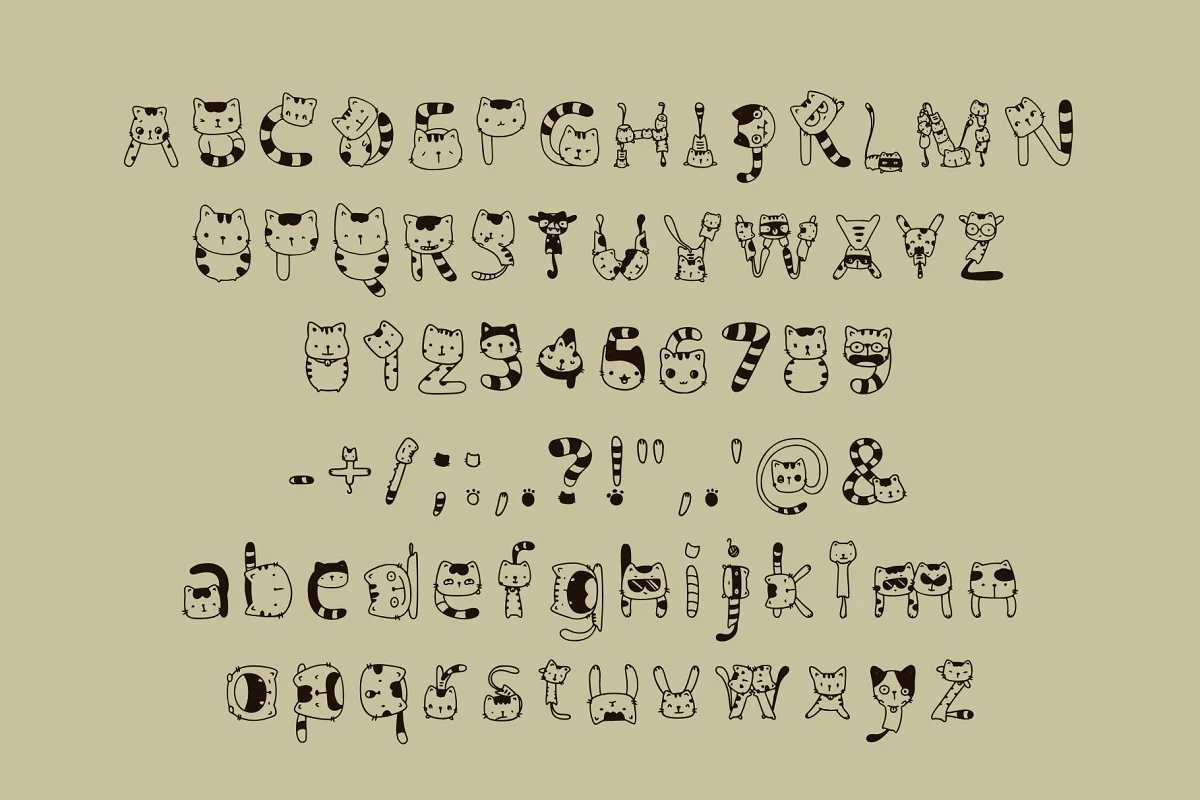 When you need a font that just spells "cat," Cat Font does the trick with its bold feline letterforms. With its thick lines and fun shape, it's great for pet-related headlines, logos, and display text when you want an obvious cat theme.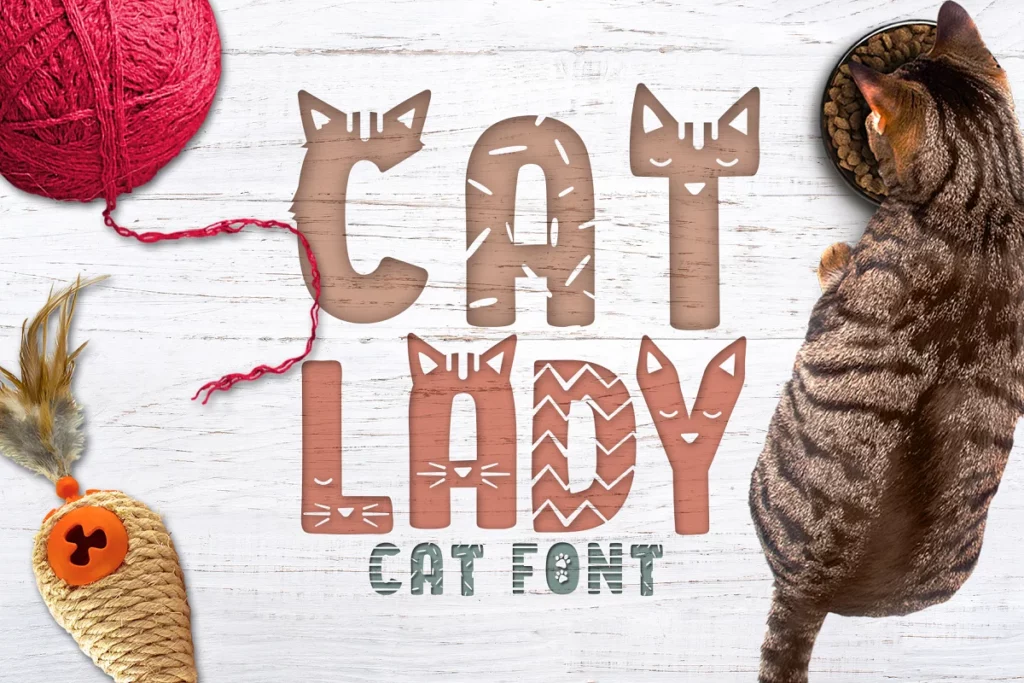 What I love about Cat Lady is how it uses playful, childlike designs to create that fun cat theme. With its whimsical vibe, Cat Lady injects warmth and personality into any pet-related project. Use it for youthful animal shelter designs, invitations, or apparel.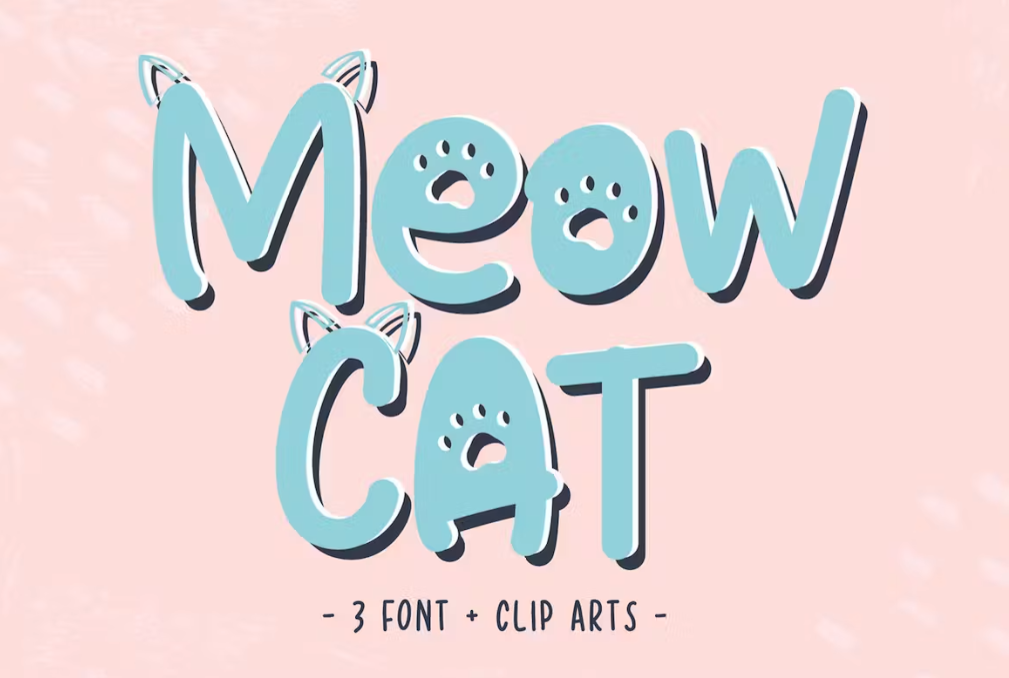 I love how Cat Meow incorporates adorable cat clipart right into the letterforms. It's a lively display font that instantly conveys that fun feline theme. I like to use it for crafting projects, invitations, apparel, and more.
9. Cat Paw, Cute Handwritten Font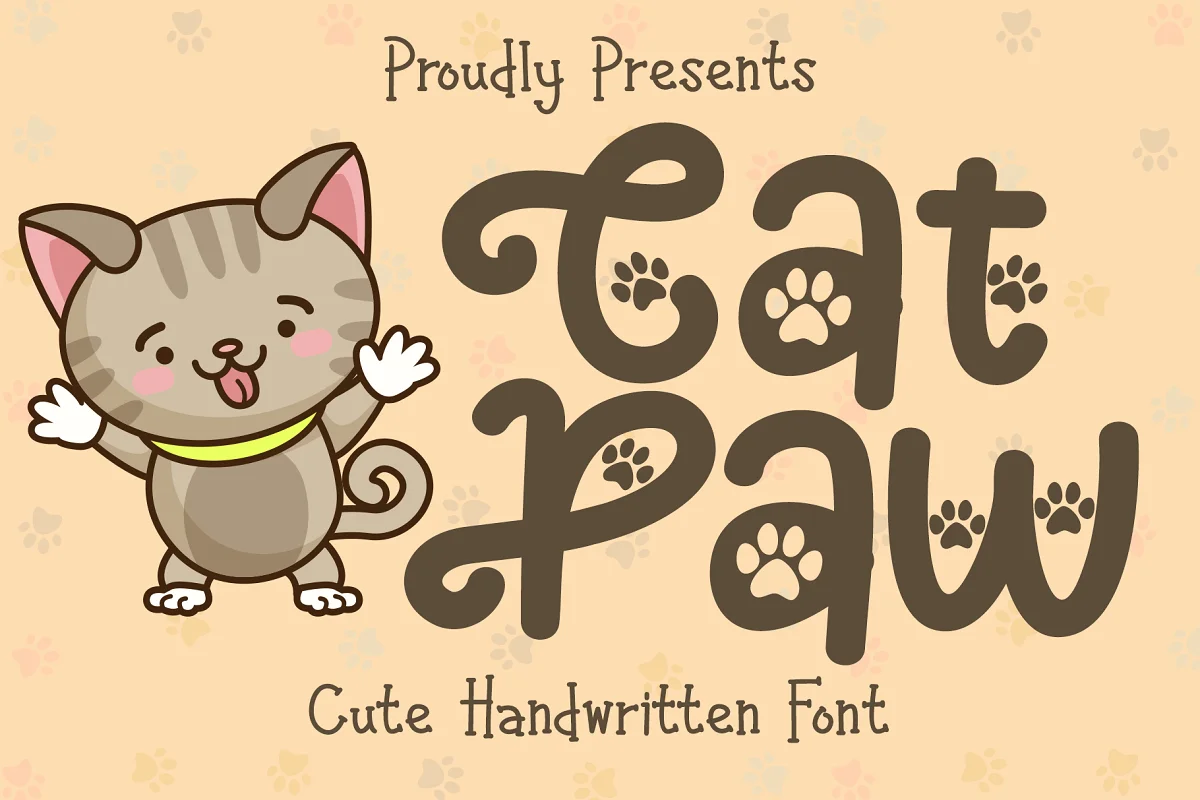 The handwritten letterforms of Cat Paw are just brimming with personality. I love how each letter resembles an actual cat's paw print. For any design where you want to convey that playful pet theme, this font hits the mark.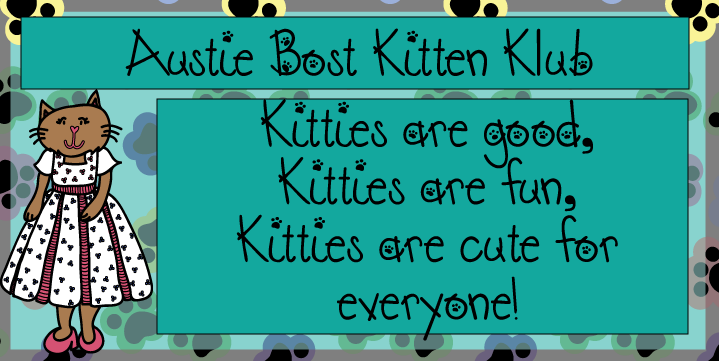 With its fun bubbly letterforms and adorable cat characters, I love using Austie Bost Kitten Klub for youthful, playful designs related to kittens or cats. The bouncy baseline gives it great energy and movement. For any project needing a dose of frisky feline cuteness, this font hits the spot.
11. Cathrine Decorative Font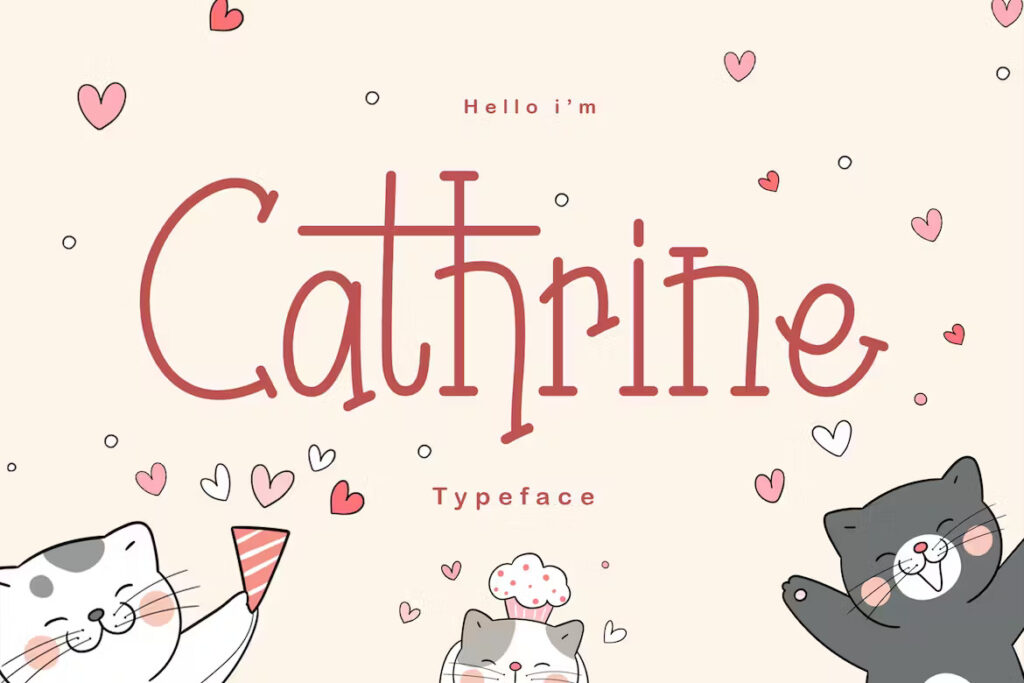 Cathrine is a simple, cute, and funny font designed to infuse happiness into your designs with three distinct styles—regular, bold, and outline—offering versatility for various projects, including posters, children's apparel, logos, quotes, album covers, children's books, business cards, product designs, and more, showcasing a unique, cheerful, and easy-to-read charm.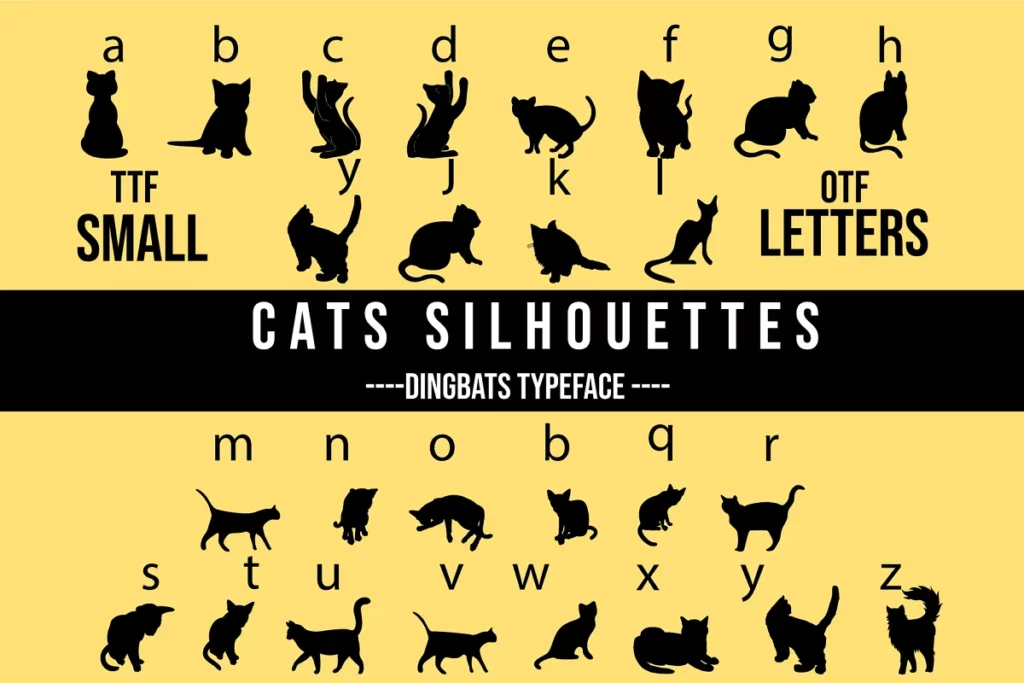 I love using Cats Silhouettes for crafts, digital designs, and presentations when I want to incorporate those fun cat shapes quickly and easily. The silhouette dingbat style also gives projects a unique look.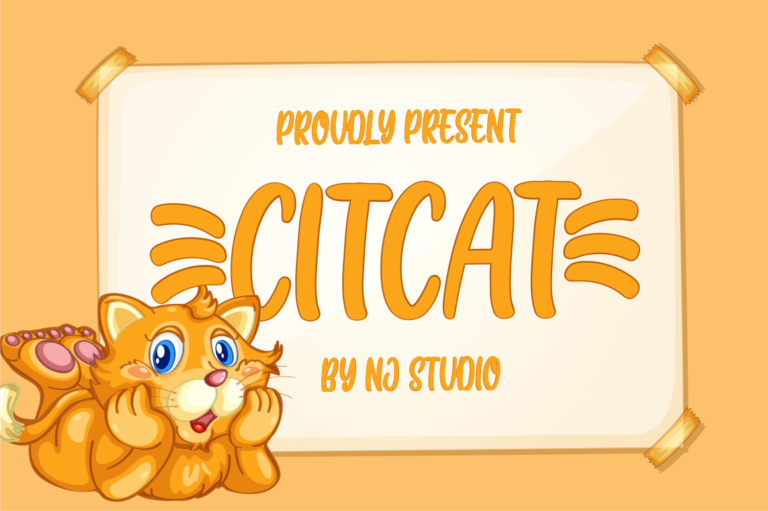 The bold black outlines and bright fill colors give Citcat a lively, fun energy perfect for kid-friendly designs involving cats or kittens. I especially like it for posters, apparel, and quotes.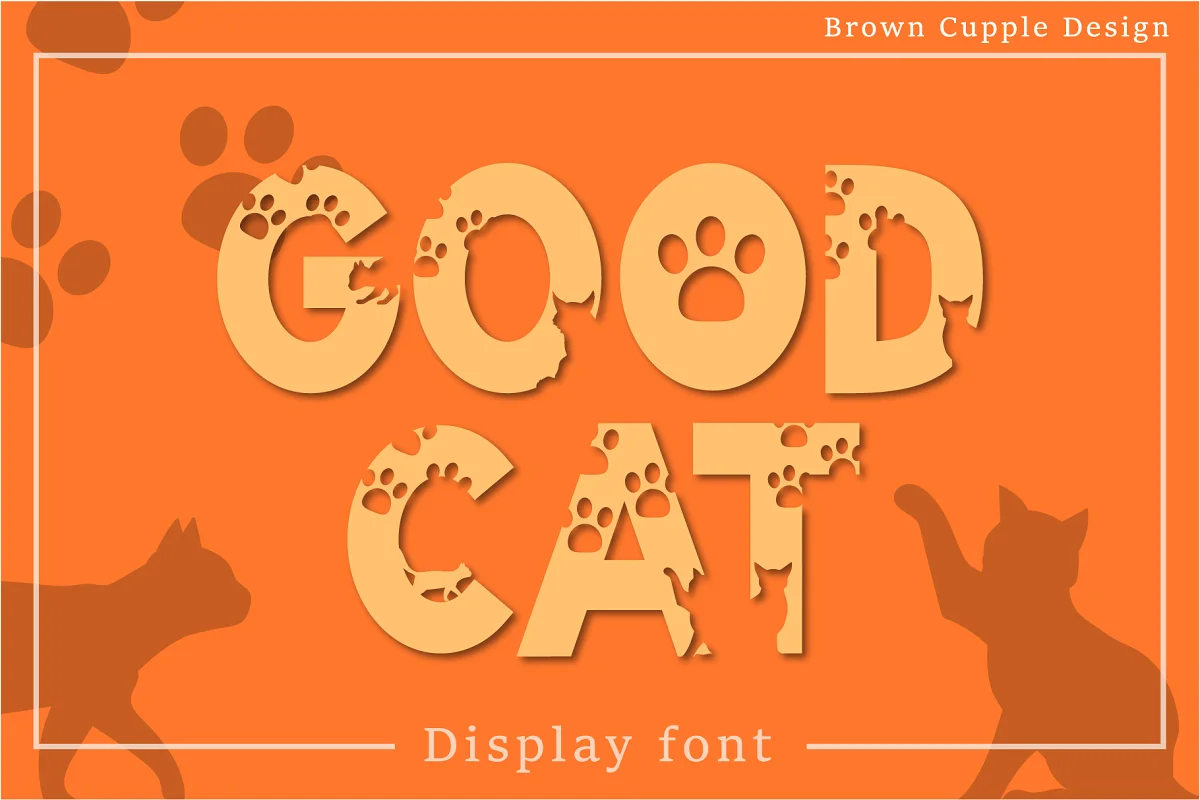 Good Cat captures that playful cat spirit with its friendly decorative style. I like to use this cute, fun font for blog posts, branding, advertising, invitations, and more.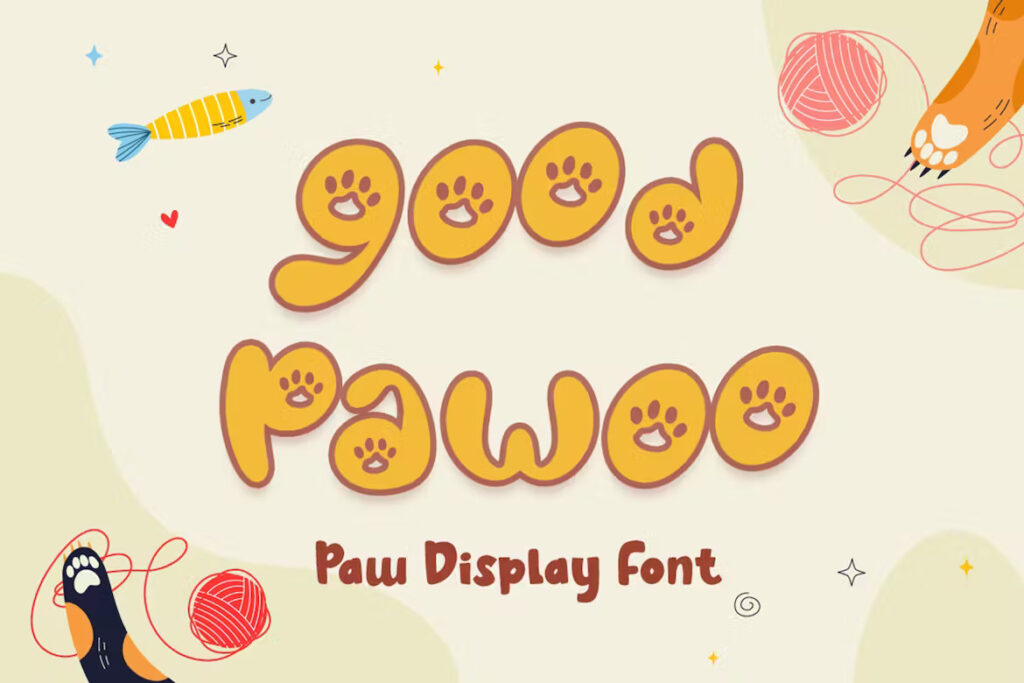 What makes Good Pawoo fun is its paw print letterforms. They make it perfect for animal-related designs needing a playful edge – I especially like to use it for vet logos and pet products.

The hand-drawn lettering style of Kitten Paws captures that sweet, youthful playfulness of kittens. I love to use this font in designs related to young cats and feline pets.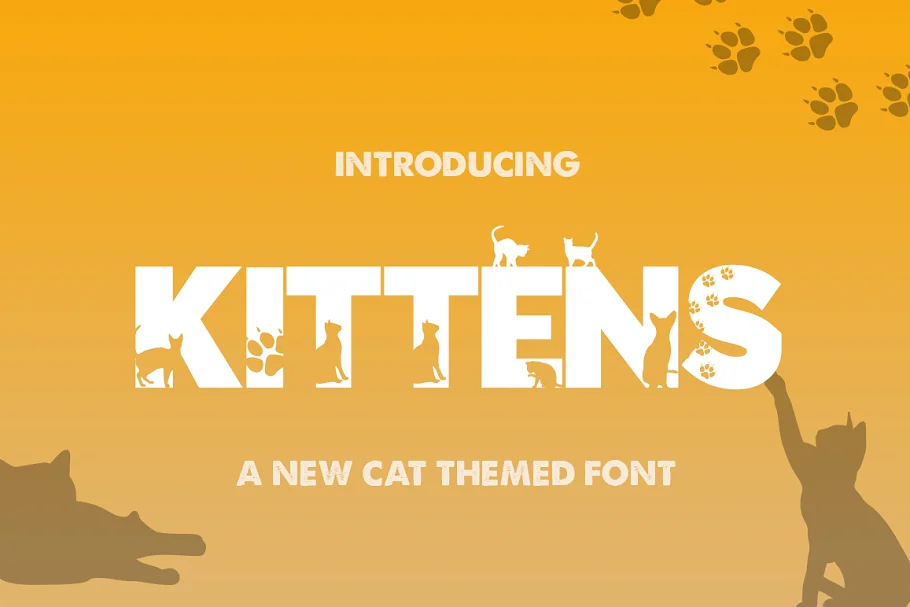 Kittens Silhouette incorporates adorable cat silhouettes into the letterforms, perfect for any design needing that playful baby cat vibe. I especially like to use it for youth-focused animal products and projects.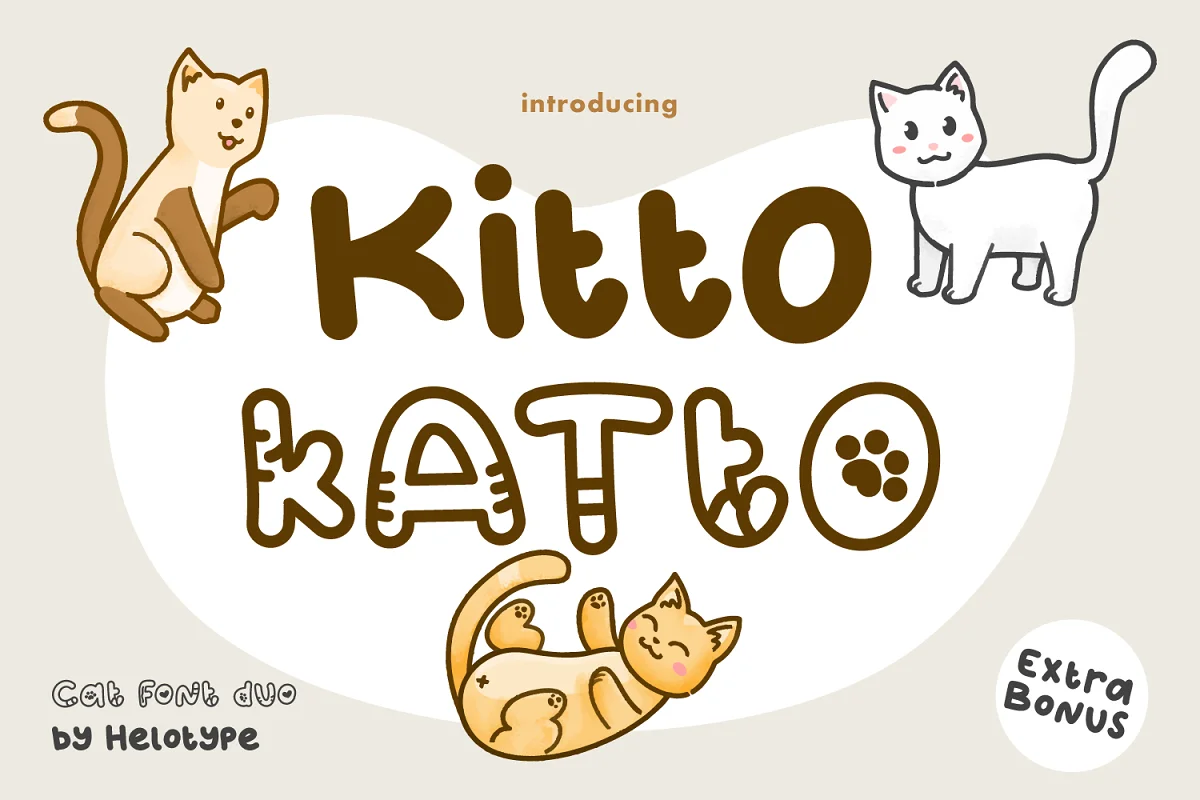 What makes Kitto Katto fun is its hand-drawn doodle style – it really captures that whimsical cat vibe. I love to use it for youthful DIY projects, invitations, apparel, and more.
What Makes a Good Cat Font?
Now that you've had a look at my top picks, let's look at what makes a great cat font:
Playful Personality
Cat fonts need lively, energetic letterforms that feel fun and mischievous, just like our four-legged friends. Bouncy, bubbly shapes full of movement and whimsy capture a cat's playful nature.
Unique Character
Cats have tons of personality, so cat fonts should too! Look for quirky designs with distinctive styling. Fonts that feel like an actual cat drew them are extra fun.
Flexible Whiskers
Cat fonts shouldn't just be novelty designs. Make sure the font works in both large and small sizes for display text and paragraphs. This flexibility lets cat fonts whisker their way into all kinds of designs.
Legibility
While playful, cat fonts still need to be readable for long text. Prioritize clean lines and spacing so your message doesn't get lost in all the cat-titude.
Where Tp Use Cat Fonts?
Now that you know what makes a font feline-friendly, here are some purrfect places to put them to use:
Pet Branding
For any brand related to cats, dogs, or other pets, a lively cat font can inject fun and approachability into logos, packaging, websites, and more.
Shelter Promotions
Bring awareness to adoptable cats and kittens at local shelters with eye-catching flyers and brochures featuring a catchy cat font.
Rescue Announcements
When promoting cat rescue initiatives and events, a cat font adds personality and draws interest to your communications.
Cat-Centric Apparel
Level up cat-themed t-shirt designs, hoodies, and other merch with the right attention-grabbing cat font.
Greeting Cards
For cat-lovers of all kinds, a fun cat font makes custom cards and stationary gifts extra special.
Pet Portraits
Jazz up commissioned pet portraits with customized names and details in a lively cat font.
Kitty Blog Branding
Cat fonts bring new personality to personal blogs, newsletters, and social accounts dedicated to your own pet.
Start Crafting Playful Cat-Themed Designs
With this wide-ranging collection of fun, lively cat fonts to choose from, you have endless options for injecting lighthearted feline flair into designs. From elegant scripts to energetic displays, these fonts capture a cat's playful spirit.
So go ahead and start creating that purrfect design for your pet brand, animal shelter, cat lover's card, or any project needing a dose of frisky cat character. Just be sure to follow font licensing terms. When thoughtfully incorporated, these cat-tastic fonts will have your design looking feline fine!
Let me know in the comments if you have any other favorite cat fonts I should try out. And don't furget to download some fonts from Envato Elements for unlimited creative use. Happy designing!