I went to Max Brenner for the first time the other night; and in addition to having an amazing dessert, I really took notice their brand. I especially love the warm chocolatey color palette.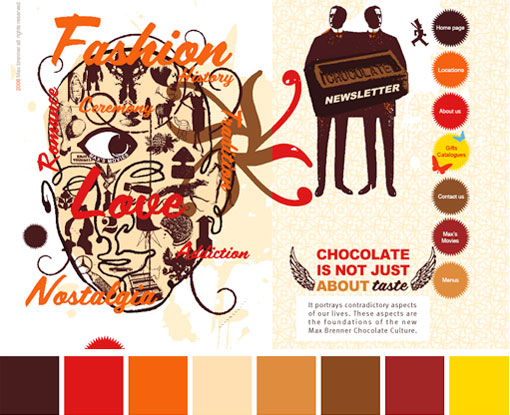 The HOW Design Conference is headed to Austin June 24–27; here's some information about the conference that might be of interest to your readers. We appreciate you passing any of it along.
HOWconference.com updated with more event info
Just this week, we retooled the HOWconference.com homepage to help designers make the most of their conference experience, with updates on extra activities like workshops and the popular Austin Studio Tours, additional ammunition for convincing their managers to send them to HOW and info on how they can build their own custom conference program.
Create your own conference
With about 50 sessions (not to mention workshops and evening activities) to choose from, designers have lamented in the past that they have a hard time selecting sessions when they register. So we're offering new tools to help them customize their own conference experience and pick the presentations of most interest to them. We've highlighted sessions targeted specifically toward agency designers, freelancers, web/interactive designers, in-house creatives and studio owners. Learn more at http://www.howconference.com
New: survive & thrive panel
The economy is on everyone's mind— and the biggest issue is uncertainty. When will we rebound? What happens next? We've asked a panel of design industry folks to address these very questions at a brand-new special session in Austin from 8:00 a.m. to 9:00 a.m. on Friday, June 26. Jeni Herberger, Jeff Fisher, Steve Gordon, Jr., Daniel Schutzsmith, Andy Epstein and Megan Slabinski together cover every aspect of the industry, from in-house to agency to freelance. They'll talk about what other designers are seeing and experiencing and then look at where the design industry is headed. The rest of the session will be devoted to Q&A.
Early registration deadline this week
Speaking of economical: Designers can save $100 off the conference registration if they sign up by midnight on Friday, May 1. They can register online at http://www.howconference.com/register