I'm one of those people who always loved school—if I ever win the lottery, I'm becoming a professional student. So I'm always really interested to see what the designers in SVA's Designer as Author program are up to. Enrolling in a graduate design program is something I would love to do some day, if I could ever figure out how to take a two-year break from working (wishful thinking, I know).
So I was excited to see that the class of 2009 has a new project on display online—Model Citizen—which was created for Kevin O'Callaghan's 3D design course. According to the site, O'Callaghan had his class "create fashion collections that would be functional and metaphorical, as well as polemical." The project is "a runway show cum exhibition that addresses through clothes and accessories the critical issues facing citizens everywhere."
You can see each student's final product, which are all really interesting, on the site. But here are a couple of my favorites.
Kristina Critchlow, dis.clothes.ure
"What if it was easy to get up close and really see what makes politicians tick? The dis•clothes•ure line of fabrics intends to show the harsh realities of some political policies and actions including sex, bribery, torture, health care, and war when the viewer takes a closer look at their everyday attire."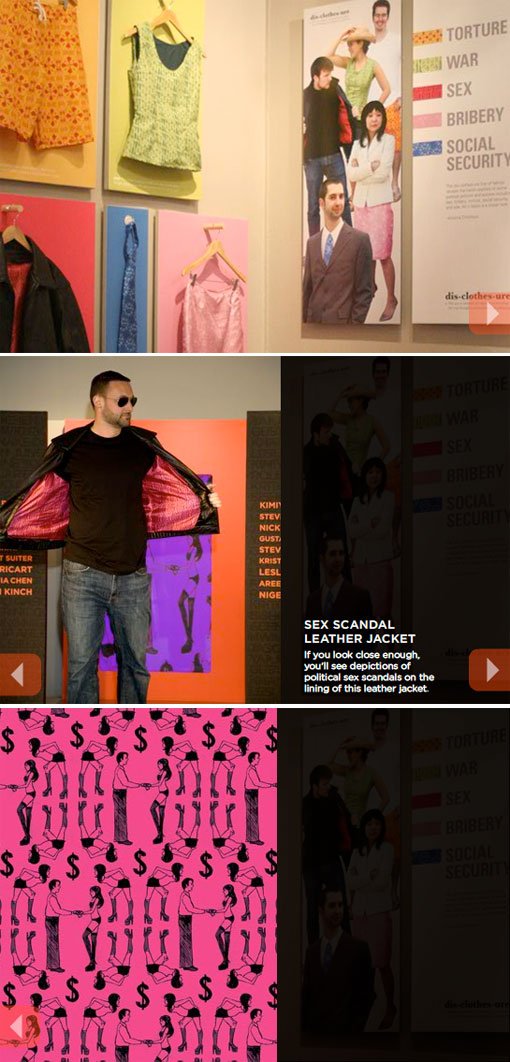 Kimiyo Nakatsui, Women on Top
"Women on Top addresses the lack of female representation in U.S. and international politics. Each apron, an artifact of traditional female roles, represents a 'campaign' in support of female leadership. By maintaining a distinctly feminine sensibility, they argue that women can have it all—brains, brawn and beauty."