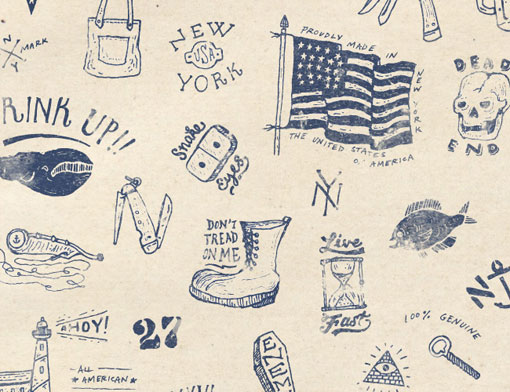 artwork by Jon Contino
It's the 4th of July here in the States, so I'll be taking the day off for some much needed relaxation. I'll be back tomorrow with a full day of posts. Enjoy the time off if you have it!
I was recently pointed in the direction of The Fox is Black's new LGBT Creatives series—a great idea. I'm very interested to see the artists that will be profiled, and I have to mention that I love the simple, smart logo Bobby designed.
I haven't spent enough time with this Google + demo to fully understand what it is, but this colorful site sure is sharp-looking.
And speaking of Google, Google web fonts v2 has launched, making it super easy for anyone with a website to make their online space look that much more professional and polished.
The new and improved version of Don't Fear the Internet has launched.
Lumadessa just released a new series of prints featuring African Mammals in their same signature illustration style.
One of my new favorite blogs, Vintage Oh Me Oh My, is now offering up a selection of high res downloads in their shop.
Typetoken is offering up a whole series of typographic iPhone lock screens.
How fun is this MailChimp coloring book? There's a great story behind it too.

If you're looking for more design-related people to follow on Twitter, David Airey put together a few great lists that may help you out.
Good Reads: The Impact of Creative Quality on Business Development Success, Branding Is About Creating Patterns, Not Repeating Messages, Infographic Of The Day: Can Tiny Whims Reveal Your Truest Self?