Several years ago while at Syracuse, I was lucky enough to work part time at Boxcar Press. If you know letterpress at all, you know Boxcar. In addition to letterpress printing and photopolymer plate making, they produce the well-known Boxcar base system and sell other supplies. At the time, owners Harold and Debbie were also in the early years of Bella Figura, their first line of wedding invitations and baby announcements. Working there was such a great experience—it's where I first fell in love with letterpress, and learned all about the process behind the artform.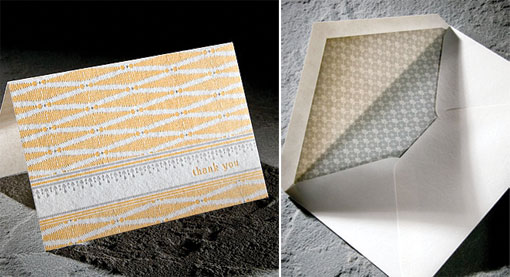 Every once in awhile I check out the Bella Figura site to see what new designs they have to offer, but it had been awhile since I spent more than a few minutes there. So I was extremely impressed when I took a longer look today and saw how much they've grown.

Their latest venture, Smock, is an eco-friendly line of invitations, greeting cards and other paper goods. Printed on luxury bamboo paper, the line is available on the site as well as in stores nationwide. And just like all their other products, Smock is beautifully designed and expertly letterpressed as seen in the full line of social stationery here. And make sure to take a look at the wedding invitation options, where you can mix and match patterns, colors and typefaces to create a look that's all your own.