This morning I'd love to point you in the direction of a great design event happening in NYC in just a few weeks. After the Jump: Designing Better Experiences in the Digital Landscape is a half-day symposium focused on various topics in digital design. The event was conceived and curated by Sullivan, an NYC brand engagement firm, and The Type Directors Club. It features an incredible lineup of speakers who will undoubtedly provide lots of food for thought.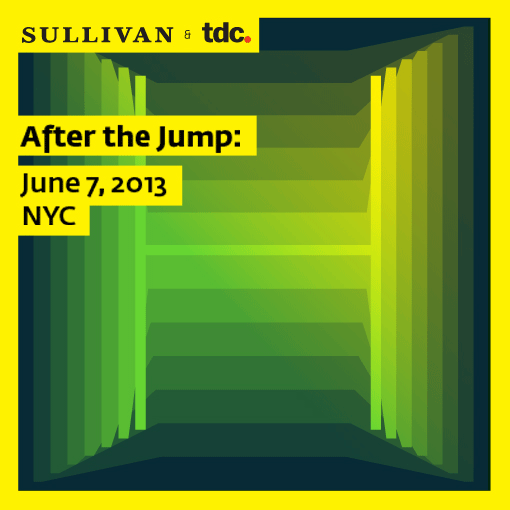 Cassandra Zimmerman, a Creative Director at Sullivan and one of the driving forces behind the event, was kind enough to answer a few questions for us about what you can expect.
—
What inspired Sullivan to create After the Jump?
Sullivan had proposed the idea of partnering with Type Directors Club in an effort to contribute to the larger creative community and to represent a subject matter that we are particularly passionate about—content-driven design. Taking that a step further, thanks to innovation in technology and a myriad of digital devices there are opportunities for connecting brands with people that simply didn't exist before. After the Jump is a moment to reflect on the evolving digital landscape and how we can seize this opportunity to create more meaningful and compelling experiences.
Why do you feel this content is especially relevant to designers today?
It's an exciting time for designers thanks to ongoing innovation in technology allowing better access to better fonts, responsive design, and developers that make unprecedented experiences with language possible.
What can attendees expect to get out of the symposium?
This symposium curates industry leaders from different aspects of content-driven design such as web design, data visualization, and/or technology-driven user experiences.
Who should attend?
Web designers, media-agnostic designers, data-visualization designers, content strategists, UX designers and developers
Tell us a little bit about Sullivan and the work that you do.
Sullivan is a brand engagement firm whose work lives at the intersection of brand, design, technology, and content. From higher education, technology, cause-related organizations, and financial services, we thrive in making the complex compelling and celebrate how technology can enhance these experiences.
EVENT SCHEDULE
1–2pm
Jamie Neely (TypeCast): Prototyping web typography.
2:15–3:15pm / Panel Discussion
Lisa Strausfeld (Bloomberg): Type and data. 
Deroy Peraza (Hyperakt): Meaningful design for the common good.
3.30–4.30pm
Oliver Reichenstein (iA): Responsive design and typography.
4:45–5:45pm / Panel Discussion
Ian Lord, Andrew Mahon, Lev Kanter, Zeke Shore (Type/Code): Don't go chasing waterfalls: design and development as one fluid process. 
Andy Mangold (Friends of the Web): Content has changed, so must design.
6–8pm
Afterparty Above Allen @ Thompson LES Hotel, 190 Allen Street, New York, NY 10002. Have a drink on us and rub elbows with the event's best and brightest.
—
As designers in this day and age, our world is expanding more and more towards digital design. So whether or not you work in the digital space currently, these topics are important to consider. And as a result, I think this sounds like an excellent event for all designers, no matter what your present focus might be.
For more information, check out Sullivan and the Type Director's Club. Or to purchase tickets right away, you can head straight to Eventbrite.