Two freebies in one week, I know. Looking forward to 2010, I hope to offer more of these on a regular basis. But if you're looking for a last minute gift idea, this one in particular may help you out.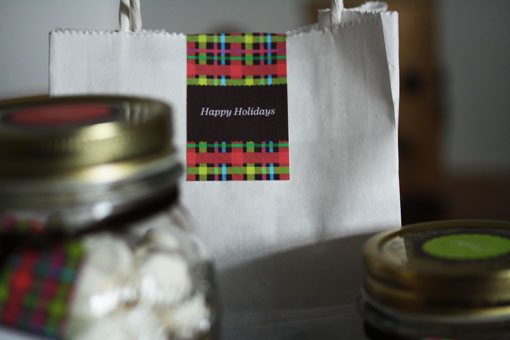 This year I was looking for a simple but fun gift I could make for several people, so I decided to try out the hot chocolate recipes that Maddy of Inspired Bride came up with (check out part 1 here and part 2 here), with a few adjustments. Since I was making them for holiday gifts rather than favors, I decided to make larger batches, using larger glass jars as the containers.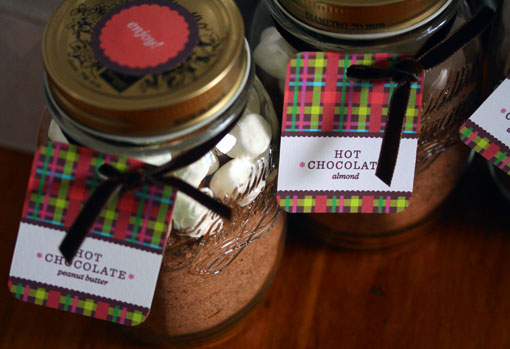 For each jar, I doubled the base recipe and mix-ins. I wanted to create a variety of flavors, so I used most of Maddy's specialty recipes, and also added two of my own—white chocolate and peanut butter. Yum. This left a bit of room in each jar so I added a handful of mini marshmallows—which go with any flavor in my opinion—to each batch.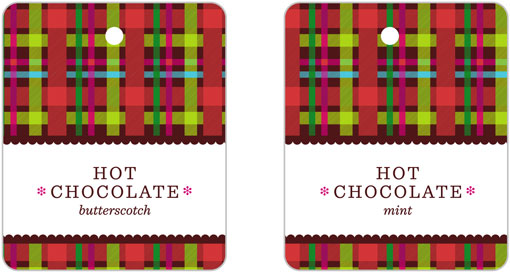 I've created tags for six flavors in total: mint, almond, double chocolate, butterscotch, peanut butter and white chocolate, all of which you can find on the template I've created. Plus additional labels for the tops of each jar and a bag closure. See below for the instructions and downloads.
MATERIALS
Cardstock
Label Paper (I use the full 8.5×11 sheets found at Staples)
Standard hole punch
1.5 inch circle punch
Velvet Ribbon, 1/2 yard per jar (I found mine at MJ Trim)
Round corner punch
Tag Templates (see below)
Gift bags
DIRECTIONS
Prepare hot chocolate recipe based on instructions found here and distribute into individual jars.
Add a layer of mini marshmallows to top it off.
Print out hang tags and labels and trim to size. You can print these double-sided (directions go on the back) but I simply printed the backs on label stock and attached them to each front.
Round the corners, and punch the hole for each tag.
Print circle labels and trim to size using the 1.5 inch punch.
Cut separate lengths of velvet ribbon, 1/2 yard per jar.
Place each jar in a gift bag and close with label.
TEMPLATE DOWNLOADS
Hang Tags: Front
Hang Tags: Back
Circle Labels
Bag Closure Label
Enjoy! And thanks Maddy for the inspiration and delicious recipes!
*all design work life downloads fall under the Creative Commons Attribution Non-Commercial license