On any given day in New York, you can usually find multiple design-related events to attend. So every so often it happens that there are two or more happening at once that I wish I could attend.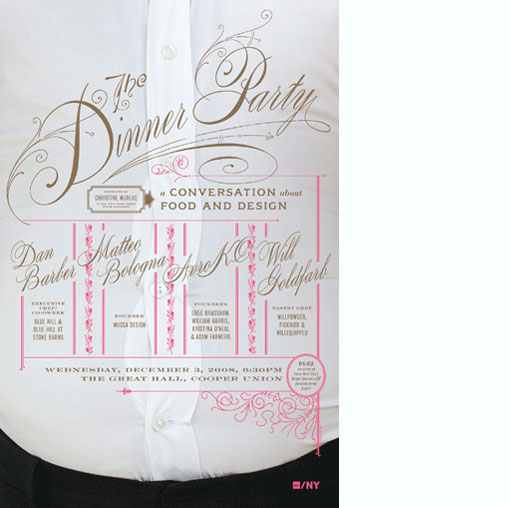 I recently purchased tickets for AIGA event, The Dinner Party: a conversation about design and food. It sounds pretty amazing—"The Dinner Party brings the worlds of food and design together for a discussion about creativity, inspiration, and what makes things tasty." The speakers include Matteo Bologna of Mucca Design, AvroKO, Dan Barber and Will Goldfarb; and the event concludes with speciality cocktails and snacks from some of New York's finest food carts. Yum.
The Dinner Party is on Wednesday, December 3rd from 6:30 to 9:45 at Cooper Union. Pick up tickets right here.


Then after picking up the tickets I got an email about another event that I wish I could attend, Designing Obama. Presented by Sappi at the Art Director's Club, Designing Obama will be moderated by Steven Heller and feature Sol Sender and Scott Thomas, creators of the Obama logo and website. The event also features a special exhibition of posters from Threadless Loves Democracy: a challenge to design the most unique and conceptual call to vote, and winning buttons from the McCoy "Get Out the Vote" button competition on 24-7designheaven.com.
Designing Obama is also on Wednesday, December 3rd from 6:00 to 8:30 at the Art Director's Club. Pick up FREE tickets right here.
And to stay up-to-date on even more design events in New York check out 8 Days a Week.