Marx Design created this "strange by lovely" promotional gift to introduce StrangeLove, a new energy drink, to the Australian market.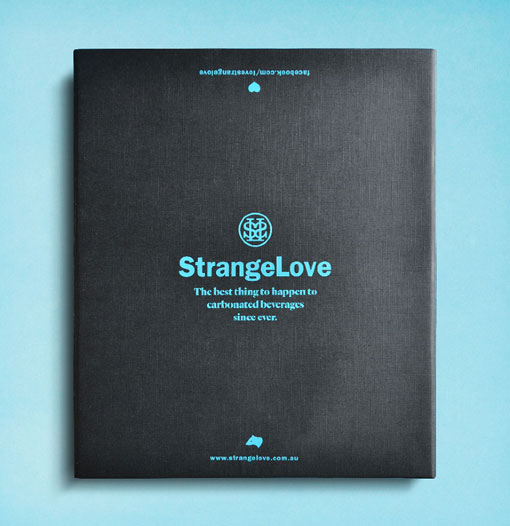 Some background:
Love is sometimes strange, I'm sure we all know that by now but what is StrangeLove? Well my friends, let me first set the scene. Marx design were tasked with packaging StrangeLove into a gift piece that cafe owners would want to display on their counter. The problem being, StrangeLove is in fact an energy drink. And we all know what that conjures up in a designers mind, 2 for $5 star bursts, bright colours and vomit inducing graphics. Enter StrangeLove, the elixr of energy drinks. In their own words, "Most energy drinks make you look like you've been kissing your cousin under the bleachers at the Parramatta Speedway. (Not that there's anything wrong with that). They scream premium but relentlessly hum Bon Jovi songs under their breath. Our packaging philosophy is simple—make something that people want to show their friends".
The StrangeLove gift pack consists of one bottle of StrangeLove ginger beer energy elixir, one bottle opener with a love heart & a rat, metal straws, a cocktail straw, promotional cards about the product and a deck of illustrated playing cards illustrated by Colombian collage artist Randy Mora. The result, I think we can all agree, is strange but lovely.