This giveaway in now closed.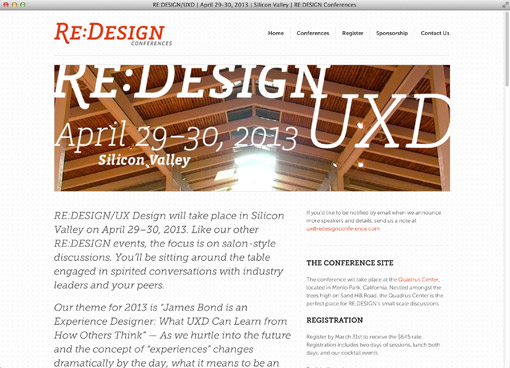 Today I'm happy to once again offer one lucky reader a free pass to the next RE:DESIGN conference, RE:DESIGN UXD, which is coming up this April in Silicon Valley. Here are the details:
RE:DESIGN/UX Design will take place in Silicon Valley on April 29–30, 2013. Like our other RE:DESIGN events, the focus is on salon-style discussions. You'll be sitting around the table engaged in spirited conversations with industry leaders and your peers.
Our theme for 2013 is "James Bond is an Experience Designer: What UXD Can Learn from How Others Think" — As we hurtle into the future and the concept of "experiences" changes dramatically by the day, what it means to be an "experience designer" is changing, too. At RE:DESIGN/UXD we'll dive in and see what we can learn about crafting the future of experience by thinking like a British spy, a journalist, a genome-code cracker and beyond.
The Fine Print:
The giveaway includes one pass to the RE:DESIGN/UX Design conference, valued at $645.00. Winner is responsible for travel and lodging for the event. Winner will be selected at random. The giveaway will be open from now through this coming Friday, February 22 at 6:00 PM EST. In order to enter, simply leave a comment here with the session leader you're most excited to hear from. Good luck!
And if you don't happen to win this time around, you can still get a dicsount on tickets just for being a DWL reader. Simply enter coupon code DWL at checkout to get $50 the price of registration.